Holiday Inn Brent Cross appoints Peter Byard as new General Manager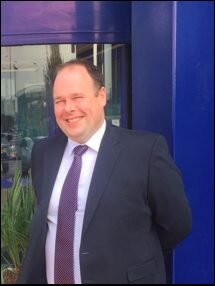 Peter Byard has been appointed General Manager of the 4* 154-bedroom Holiday Inn Brent Cross.
A leading midscale hotel manager, Peter brings with him two decades of experience at hotels across the UK, most notably with two other Holiday Inn hotels, Stratford-upon-Avon and Harrogate.
His first Greater London hotel role, Peter joins the Holiday Inn Brent Cross with a vision to drive the north London hotel forward as a leading destination for business and leisure clients. Well placed for commuter routes into and out of the City, the Holiday Inn Brent Cross is a natural choice for business travellers in addition to those heading to Wembley and the city centre for leisure breaks.
Commenting on his appointment, Peter Byard said: "I am delighted to return to the Holiday Inn brand and lead such a successful greater London hotel and talented team. We have exciting plans for the hotel in the coming years and I look forward to welcoming guests to Brent Cross."
Simon Teasdale, Managing Director LHM UK, added: "We are thrilled to bring Peter back to the Holiday Inn group and work with him to develop the brilliant offering in Brent Cross. Greater London hotels hold increasing significance for businesses looking to maximise access into and out of the city. Brent Cross is well placed to capitalise on this, located between the M1 and North Circular."
The Holiday Inn London Brent Cross offer ample on-site parking for its guests, free Wi-Fi throughout the hotel and six fully equipped meeting rooms.