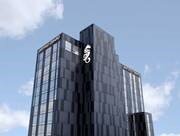 Brand New 7th Property for Hastings Hotels
The newest addition and the seventh hotel in the Hastings Hotels portfolio, Grand Central Hotel, Belfast is celebrating it's opening today.
Standing 23-storeys high on Bedford Street, this will be Northern Ireland's tallest hotel and promises to bring a new era of glamour and grandeur to the heart of Belfast. This Grand Central is the second of its kind; a contemporary reincarnation of a Victorian hotel with the same name that stood on Royal Avenue from 1893 to the 1970s. Inside, historic stories inspire contemporary design and luxury is elevated by local authenticity. The new branding for the hotel incorporates the Seahorse, a nod towards Belfast's Coat of Arms and a celebration of the City's Maritime history. A legend reborn, the Grand Central Hotel is a new jewel for Belfast with an old soul.