SODA FOLK: Uncommon Flavour for Uncommon Folk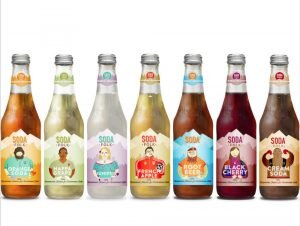 Soda Folk Launching New Range of Alcohol-Inspired Booze Free Sodas
Soda Folk (www.sodafolk.co.uk) is an award-winning drinks brand pioneering craft sodas in the UK. Founded in 2015 with their fiery Root Beer and lusciously sweet, Great Taste Award winning Cream Soda, Soda Folk is a firm favourite at Selfridges, Meat Liquor and Byron restaurants nationwide. This Summer 2017 sees the launch of five new naturally low calorie and low sugar sodas, black Cherry (initially exclusive to Byron nationwide), mandarin Orange and the G&T inspired Juniper, Prosecco-inspired chardonnay Grape and cider-inspired Breton Apple sodas (RRP £2.49 per 330ml bottle).
Served in elegant glass bottles, expectant mothers, tee totallers, those avoiding alcohol to cut down on calories or look after their health or designated drivers will be glad to find some of their favourite boozy treats in soda form. Making an excellent standalone drink with lunch or dinner, for a quick afternoon boost or as a satisfying alternative to alcohol, these new quenching flavours make a terrific refresher for any occasion.
Soda Folk was founded by Colorado native, Ken Graham, who, when he moved to London from the states, found himself homesick for Coloradan Root Beer.  The FSA crackdown on products with excessive additives led to the banning of American Root Beer imports which largely list Benzoic Acid; Ken decided it was high time he brought craft sodas to our shores, with nothing artificial added, just the best quality ingredients he could find and simple recipes that deliver on taste.
 Inspiration for the new range came from Founder Ken's wife Devon; when she was expecting their daughters Clover and Willa, Ken sought to find tasty alternatives to alcohol whilst they both went booze free for the pregnancies, ever the innovator in the kitchen, Ken got creative in mimicking their favourite alcoholic drinks in soda form. The black Cherry and mandarin Orange flavours were always in the works for Ken, but after stockists and customers alike requested these varieties, it was a no-brainer to extend the range even further!
Ken's home state of Colorado is famous for its skilled craft-brewers; inspired by these breweries high in the Rocky Mountains, he created Soda Folk's modern-classic recipes.  Just as with craft beer, Soda Folk uses only the highest quality ingredients, to ensure a great-tasting refreshment every time.
Soda Folk Cream Soda is made simply with carbonated water, pure cane sugar and Madagascan vanilla extract packing a luxuriant flavour punch, ideal for pairing with food, supping alone or as a partner to a smooth dram of Bourbon. Soda Folk's Root Beer Soda is also made with a base of carbonated water and pure cane sugar, but is taken spicy new heights with the uniquely pungent and piquant root, wintergreen (for the uninitiated, the flavour and aroma is not too distant a cousin from Dandelion & Burdock); rounded off with aged vanilla and pure maple syrup, the creamy drink is an ideal pairing to the classic American hamburger, a novel cocktail ingredient and is taken to a whole new level as part of a Root Beer Float.
Ken says of his inspiration behind the brand, "Since we launched Soda Folk two years ago, we've found our way into hundreds of stockists across the UK.  We're really proud that we've helped popularise American-style root beer and cream soda, but when it came time to create some new flavours, we knew we wanted to try something different.  Could we make a range of sodas that had the same flavour impact, using all natural ingredients, but without the added sugar?  It took over a year of tinkering in the Soda Folk kitchen, but we managed to cook up five new flavours that fit the bill.  We think our new drinks will introduce Soda Folk to a much broader market, and we can't wait to get them out into the world."
Launched into Byron and a raft of restaurants, bars, cafes and independent shops nationwide, Soda Folk is currently lining up a host of national stockists and premium retailers.
The Soda Folk range comprises seven delicious flavours:
Soda Folk Orange Soda

Carbonated water, fruit juice, natural flavours, citric acide
80 Calories per bottle
RRP £2.49 per 330ml bottle

Soda Folk Cherry Soda

Carbonated water, fruit juice, natural flavours, malic acid
91 Calories per bottle
RRP £2.49 per 330ml bottle

Soda Folk Juniper Soda

Carbonated water, pure cane sugar, citric acid, natural flavourings, quinine, antioxidant ascorbic acid
67 Calories per bottle
RRP £2.49 per 330ml bottle

Soda Folk Grape Soda

Carbonated water, Chardonnay grape juice, natural flavourings, tartaric acid
80 Calories per bottle
RRP £2.49 per 330ml bottle

Soda Folk Apple Soda

Carbonated water, French apple juice, malic acid
71 Calories per bottle
RRP £2.49 per 330ml bottle

Soda Folk Cream Soda, carbonated water, pure cane sugar and Madagascan Vanilla Extract. Gold Star winner, Great Taste Awards 2015
Soda Folk Root Beer, carbonated water, pure cane sugar, aged Vanilla Extract and Pure Maple Syrup.
The Soda Folk
Each tasty soda in the Soda Folk range is devoted to someone in Ken's life who has inspired him with their generous spirit and dedication to worthwhile causes – the folk depicted on each bottle of Soda Folk have their own story to tell and Ken donates a percentage of profits from each drink to these good deeds:
Brian Gravestock – Soda Folk Root Beer
The word 'craft' is defined as "an activity involving skill in making things by hand".  Colorado Springs bike mechanic Brian Gravestock has taken his craft and added a whole new spin: donating finished bikes to those in need across his local community. Brian has run Bike Clinic Too since '09, to support the original Bike Clinic he founded in '93 with friend Peter Sprunger-Froese. Bikes are donated, repaired by Brian and his team, then given to local homeless, offering them a freedom they would struggle to achieve alone. A bike isn't just a method of getting from one place to another. It is that 'wind in the hair' freedom to move swiftly, to escape urban life, to just hit the saddle and ride. Such freedoms form the roots of a healthy mind, which is why Soda Folk chose Brian to grace their cans and bottles of craft Root Beer.
Fred 'The Preacher' Lewis – Soda Folk Cream Soda
They call him The Preacher. Colorado resident Fred Lewis spent his early years in the US Air Force, becoming its boxing champ and one of a small handful to have knocked down the great Muhammad Ali.  Although ultimately losing his fight with Ali by a single point, Fred never stopped being a heavy hitter.  Moving to Colorado Springs in '69, he established a boxing club called 3D. Those D's stood for desire, discipline and dedication, three qualities that spread into Fred's other calling; fighting the Lord's fight. Ordained as a minister in '75, this Preacher was never content to let the crowds flock to the church, instead taking his message on the road, (helping the elderly and those in need with shopping and transport) in the form of selected scriptures painted across the side of his pickup truck. Whether you're a lover of the Lord or not, you've got to respect the man who takes every fight head-on. That's why Soda Folk chose hard-hitting Fred 'The Preacher' Lewis to grace their smooth Cream Soda cans and bottles.