Aviko 2023 Food Trends Report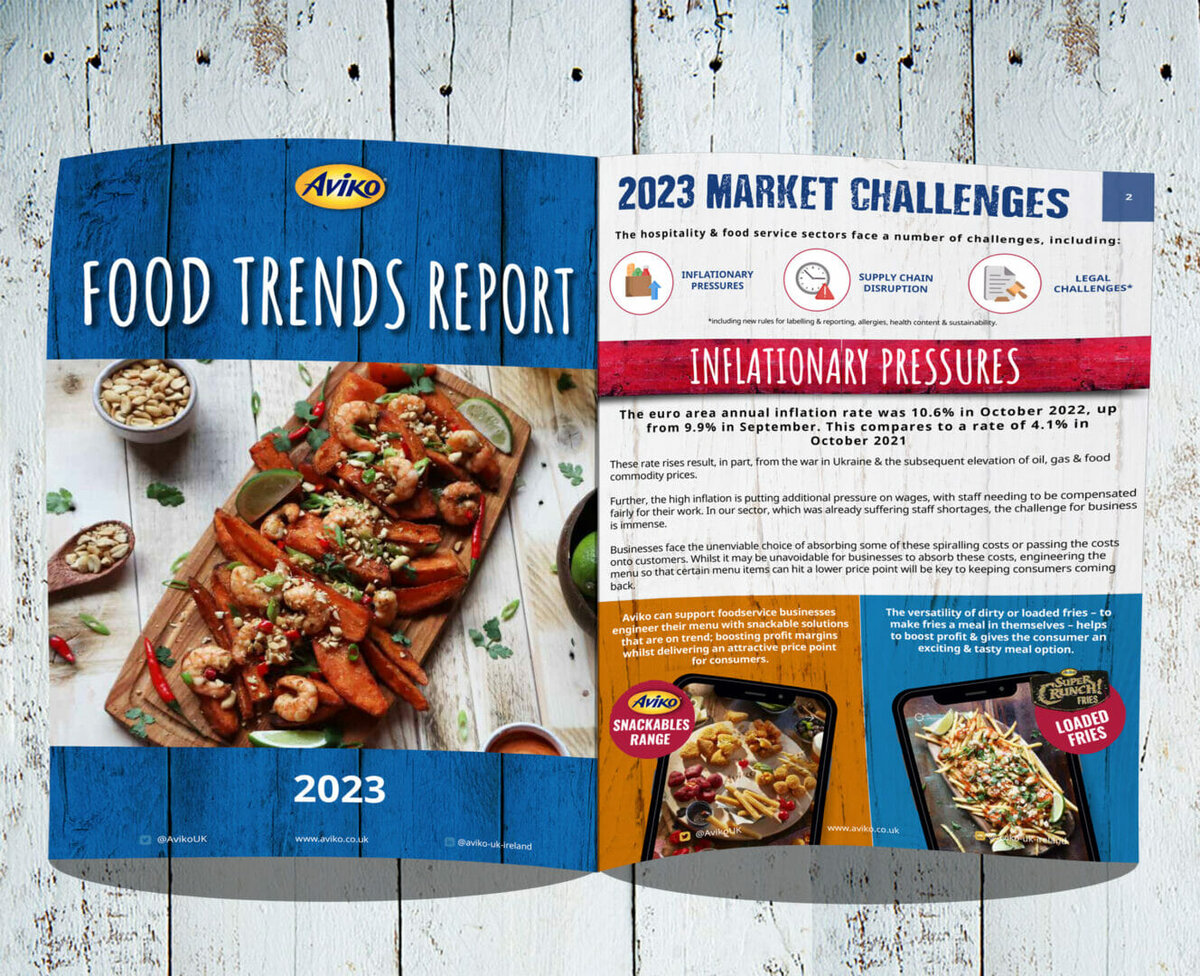 Aviko has released its must-read annual Food Trends Report, an accessible and practical guide for operators to thrive in 2023.
With hospitality on the road to recovery following the pandemic, Aviko's Food Trends Report 2023 delves into what foodservice operators can anticipate in the year ahead, the market challenges and how to navigate them, what consumers expect, as well as a look at the hottest food trends that are shaping menus.
Available to download at www.aviko.co.uk, the report is split into four parts with each section including key takeouts to consider and guidance on tackling foodservice's biggest challenge – inflation – as well as keeping focused on your sustainability goals. With insight, tips, advice and inspiration, the guide is designed to help operators understand the industry's hurdles and opportunities in order to adapt and succeed.
Commenting on Aviko's third annual report Mohammed Essa, Commercial Director UK & Ireland, Aviko;
"Hospitality has shown its resilience in the last three years, and that together we really can thrive under the most difficult of circumstances. The Aviko Food Trends Report 2023 has been designed to help businesses keep that momentum and remain agile within their operation. From menu engineering and delivery to the future of fine eating and the next 'plant-based' – 2023 offers a mass of untapped opportunities, no matter your business size or specialty. We're proud to be able to bring all this in one ultimate guide for foodservice and, we hope, a lot of optimism for the future."
Ones to Watch
Whether you're looking to expand your customer base, diversify your offering or give your menu a money-making refresh, the Aviko Food Trends Report 2023 looks at every aspect of running a successful business in the year ahead.
With most consumers tightening their purse-strings competition for spend is fierce, so it's no surprise forward-thinking operators are branching out into new opportunities. Readers can get the low down on creating a cultural hub, the upside of being solo diner friendly and the rise of the grey pound. Sustainability and the impact of ethical eating are also examined, from catering for locavores and provenance to evolving your plant-based offering to meet expectations.
Following the last three years it's no surprise that consumer interest and spend on health has risen, as well as the demand for food that brings comfort. With limited spend however the need to reimagine classics and offer something different to what can be eaten at home is growing. Affordability, comfort food and nostalgia are all trends that continue into 2023, and the Aviko Food Trends Report 2023 serves up inspiration on how these 'big three' can be adapted to make the most of food influences including global cuisine, grains, fusion food and healthy snacking.
Mohammed continues:
"As a dedicated foodservice partner, Aviko has been committed to helping businesses stand out from the crowd for nearly six decades. Alongside our business webinars and downloadable guides, we've made sure this 2023 Annual Food Trends Report is packed with practical tips and menu advice. Our team is here to help you navigate these times so please get in touch."
Aviko has been the resolute potato partner for foodservice for over fifty years, bringing quality and smart solutions to menus all over the world. The new Aviko Food Trends Report provides an ultimate guide to help businesses build on the consumer food experience. With a range of chilled and frozen potato specialities made by chefs, for chefs, Aviko's extensive range includes Hash Browns, Premium Fries, Mash, Appetisers and much more.
For more information on Aviko visit www.aviko.co.uk