EXCLUSIVE SPIRITS AT HARVEY NICHOLS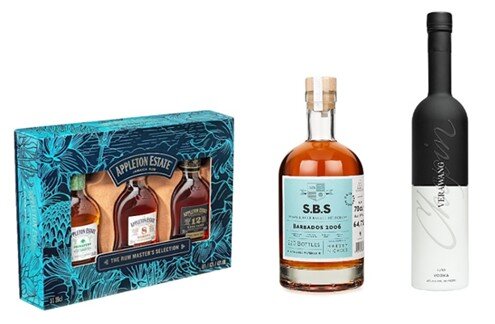 Explore a range of sought-after spirits, including a limited-edition gift set by Appleton Estate Jamaica Rum, S.B.S Barbados (Foursquare) 2006 Cask Strength Rum by 1423 Single Barrel Selection, and Vera Wang Vodka by Chopin Vodka
APPLETON ESTATE JAMAICA RUM
The Rum Master's Selection Gift Pack 3 x 200ml £49
This brand new and exclusive gift pack is the perfect way to introduce someone to the world of fine Jamaican rum. It is made up of 3x20cl bottles. Rums in the pack are:
Appleton Signature – A soft, cocktail friendly rum, perfect for mixing with quality cola.
Appleton 8YO – Made to mark their 250th anniversary. The liquid is tropically aged for a minimum of 8 years before final blending and bottling.
Appleton 12YO – Aged for a minimum of 12 years in the tropical Jamaican heat. This rum starts to take on leathery and nutty, raisin aromas.
1423 SINGLE BARREL SELECTION
S.B.S Barbados (Foursquare) 2006 Cask Strength Rum £160
The S.B.S Barbados 2006 comes from a single ex-Bourbon cask of rum distilled at Foursquare and bottled at a punchy 64.7%. At full strength, it's fiery and oily, displaying roasted pineapple, guava and banana notes, accompanied by wood varnish, fire roasted nuts, woodsmoke, honey and dried vanilla pods.
CHOPIN VODKA
Chopin, the world's first luxury vodka, has released a limited-edition collaboration with the icon of fashion, Vera Wang. It was created using a special variety of young potato selected by Vera Wang, one that has never been seen on the market before. The vodka they produce is distinctive, aromatic, complex and unlike any other. It has been filled into a striking one-litre bottle, which was custom designed by Vera Wang.