OXBO at hilton london bankside reopens with a fresh menu for summer nights
OXBO Bankside (www.oxbobankside.co.uk), the local neighbourhood eatery at the design-led hotel Hilton London Bankside, is reopening its doors with a brand new enticing evening menu invoking the fresh flavours of spring and summer, alongside punchy cocktails made with seasonal ingredients.
Created by Executive Head Chef Ollie Couillaud and featuring produce from The Hilton London Bankside's own roof garden, the new menu showcases sustainably sourced British ingredients. Dishes are layered with European, Middle Eastern and British influences, paying homage to the restaurant's multi-cultural neighbourhood.
Available every Tuesday to Friday from 6-10pm, OXBO's new evening menu is stuffed full of hero dishes – from Medallions of Fresh Monkfish served with chargrilled British heritage tomatoes and a sweet lobster salad; to a Neck of Lamb sourced from Salt Marsh, Wales – marinated in Middle-Eastern spices and paired with spiced couscous and coconut yoghurt to evoke warmer climes.
Executive Head Chef Ollie Couillaud says, "After a long, hard winter, spring is upon us, along with the exciting start of a new season of fruit and vegetables to experiment with. Taking this opportunity to make the menu offering lighter, we wanted to showcase the best of British produce with colourful dishes that marry flavours from France to Morocco. We also threw in a bit of luxury, to encourage people to treat themselves after a tough two years. Think bright heritage tomatoes of all shapes and sizes and the last of the spring asparagus. This is happy food."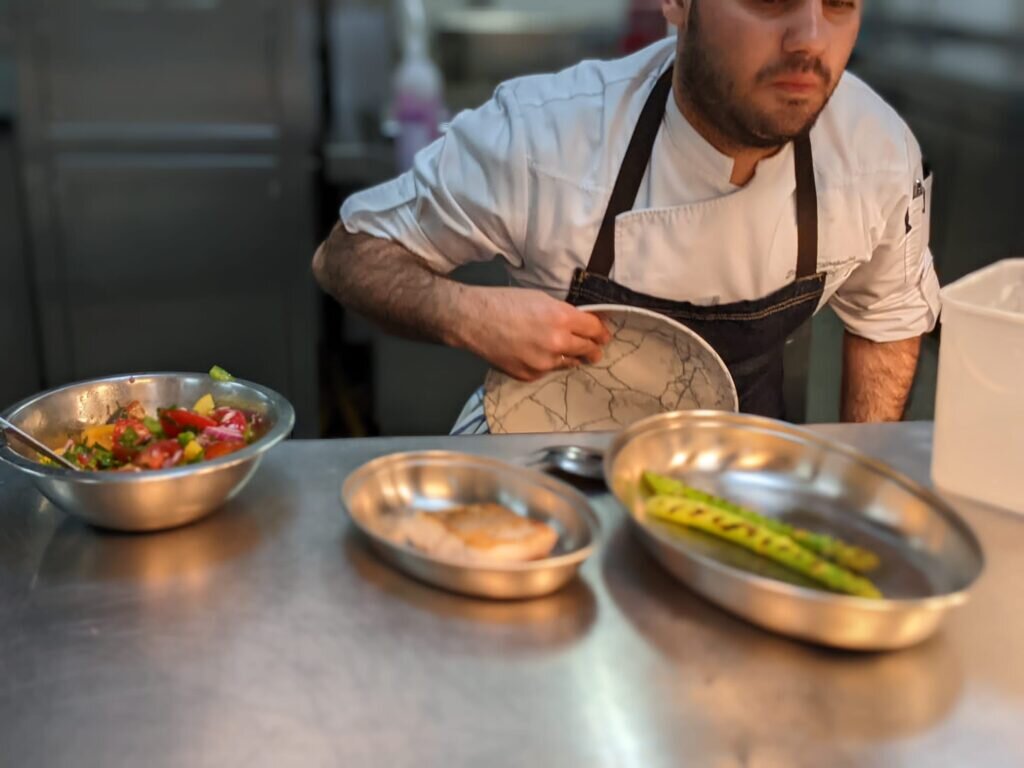 Adding sunshine, crunch and colour, a starter of Warm Spring Vegetables topped with a crisp-edged egg, shallots, chives, fig leaf vinegar and truffle mayo is not to be missed; while a verdant plate of Asparagus, Peas and Green Beans served with aubergine caviar, chickpea and mint crisps will keep vegan guests happy. Other starters include Minestrone, given a French twist with a topping of goat's cheese and Grilled Sardines, inspired by lazy beach holiday lunches.
When it came to the new dessert menu, Ollie and his team started with one ingredient, the English strawberry. This formed the basis for OXBO star seasonal pudding, a light Olive Oil Cake with honey and white chocolate mousse, strawberry crémeux with strawberry sorbet and compressed strawberries and honeycomb. Other highlights include a Lemongrass Crème Brûlée with fresh berries and crisp meringue and vibrant Blackcurrant Bavarois with passion fruit sorbet from the dedicated vegan dessert menu.
Diners will want to celebrate the exciting new evening menu with a tipple or two. Shaken and stirred at Hilton Bankside London's much-loved Distillery Bar, seasonal cocktails include the Twinkle, blending Remy Martin V.S.O.P Cognac, St Germaine elderflower liquor and champagne with a fragrant lychee and lemongrass reduction and The Spice Trip, combining Sailor Jerry spiced rum with the tropical tastes of guava, coconut, spiced nutty syrup and bitters.
Those that prefer their cocktails classic can opt for a French 75, Aviation or summer standard Negroni and alcohol-free fans will love a Plan Bee made with Seedlip Spice, raspberry, honey, lime and ginger beer.
Spacious and modern, OXBO Bankside boasts an open kitchen, which brings an element of theatre to the dining experience, making it the perfect setting this summer for a romantic dinner á deux, a friend-filled night out or post-work supper.
Venue Details
Address:
Hilton London Bankside
2-8 Great Suffolk Street, London, SE1 0UG, United Kingdom
Telephone: 020 3667 5600
Website: https://www.hilton.com/en/hotels/lonsbhi-hilton-london-bankside/
Social Media:
Instagram: @hiltonbankside