Bullards Pineapple, Ginger & Lime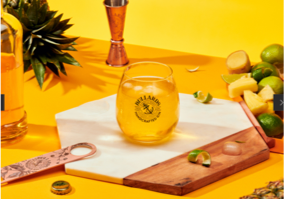 Luxury sustainable British gin brand, Bullards, is excited to announce its latest gin, Pineapple, Ginger & Lime, to add to its impressive selection of unique spirits.
Bullards pineapple gin is a decadent harmony of flavours, combining juicy roasted pineapple with feisty ginger warmth and citrusy lime leaf. Allow your taste buds to transport you to tropical climates with this unique gin for the UK market.
Bullards Pineapple, Ginger & Lime gin is steeped in tradition and will guarantee to bring something totally tropical and never tasted before to the UK gin category this spring.
Committed To Sustainability:
The new gin offering will also be available in Bullards Eco-Pouches, so you can refill your bottle for life. The brand continues to make big sustainability strides with their Eco-Refill Pouches, helping to fulfil their sustainability mission to reduce their carbon footprint and help to reduce waste.
Bullards Pineapple, Ginger & Lime Tasting Notes:
Smooth, crisp and indulgently aromatic, this latest addition to the Bullards portfolio delivers an initial hint of ginger and juniper, followed by soft roasted pineapple and a burst of citrusy lime leaf to finish.
Botanicals:
Juniper, Coriander, Roasted Pineapple, Lime Leaf, Ginger Root, Pink Peppercorns, Angelica Root.
Serves:
For the ultimate summer serve, simply pour over ice with a dash of ginger ale and a slice of lime.
Purchase Info:
The new 70cl pineapple gin will be exclusively available to purchase on the Bullards website, and all Bullards stores*, retailing at £40 a bottle.
Website: https://bullardsspirits.co.uk/
Social media: @bullardsgin
Imagery here: https://we.tl/t-0Yw4ww5qRj
Bullards, Launch First English Sparkling Rosé
The Norfolk made Rosé Traditional Method sparkling wine is a Bullards first
Luxury sustainable British brand Bullards is excited to announce the launch of its brand-new English Sparkling Rosé, a first for the award-winning Norfolk gin makers.
Bullards English Sparkling Rose is an opulent 12% ABV wine providing a palate of strawberry and raspberry sorbet mixed with a nice acidity for the perfect finish.
Made from Seyval Blanc, Pinot Noir and Auxerrois grapes, the pink sparkler has been created using the Traditional Method of making sparkling wine through secondary fermentation in the bottle – identical to how Champagne is made.
All three grape varieties are grown at Bullard's Tipsy Anchor vineyard in Norfolk by viticulturalist Michael McAully. They are subject to a pneumatic pressing combined with a short maceration on the skins to extract the pink colour. Once the initial fermentation is complete, the wine is then subject to secondary fermentation in the bottle, ensuring that the lees impart the maximum aromas and finesse to the wine.
The limited-edition wine has been produced and bottled for Bullards at Wiston Estate Winery in West Sussex.
Dedicated to innovation, the family-run business thrives on experimenting with diverse and unique flavour combinations, to provide new and exciting products to the market. This has seen Bullards cement itself as a leader in the UK gin scene, now setting out to make its mark on the sparkling wine category.
The new sparkling roséwill be available to purchase on the Bullards website, and in all Bullards sites, retailing at £40 per bottle. https://bullardsspirits.co.uk/