AWARD-WINNING BRAND MASH DIRECT SECURES MAJOR NATIONAL LISTING WITH MORRISONS @mashdirect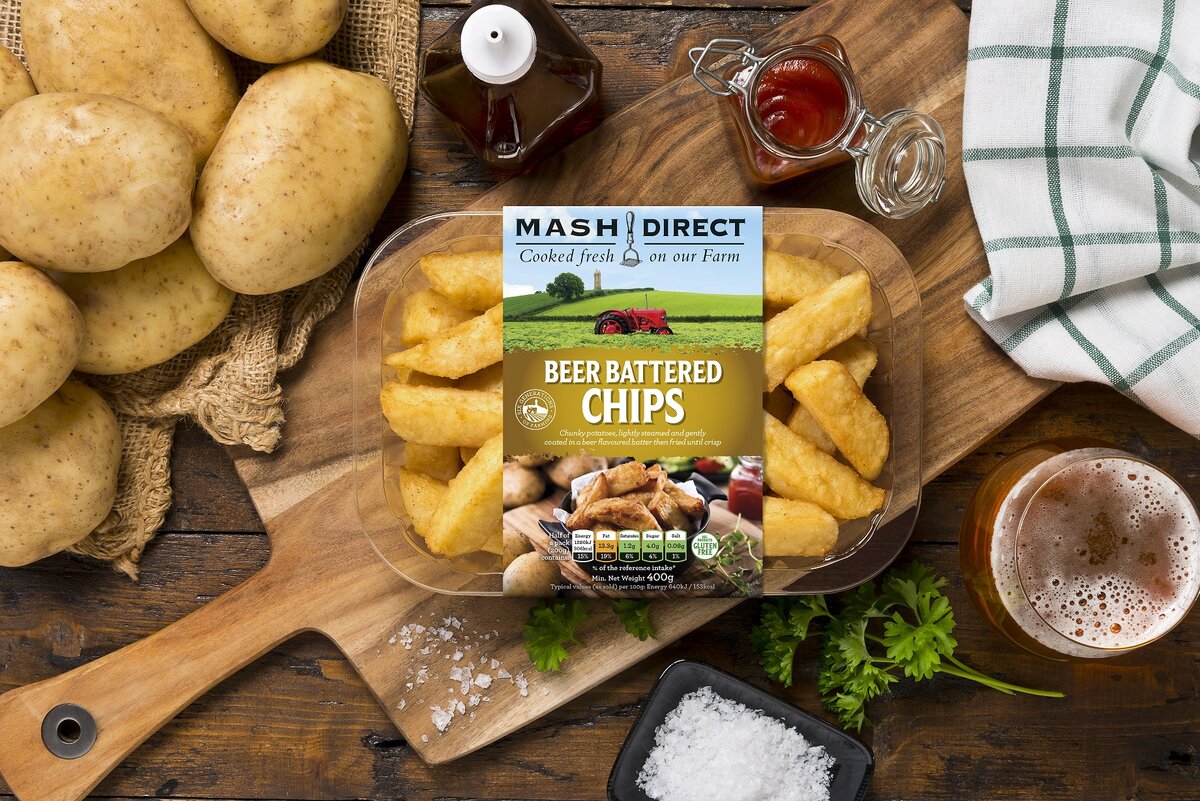 'FIELD TO FORK' BRAND AVAILABLE IN 170 MORRISONS STORES TO MEET CONTINUED DEMAND FOR HIGH QUALITY CONVENIENCE FOOD
Award-winning, independent 'field to fork' brand Mash Direct (www.mashdirect.com) has secured a national listing with Morrisons, to list a range of the brand's award winning ready-to-eat vegetable accompaniments that are created fresh on its family farm with the true taste and texture of home-made.
From 16th September, six Mash Direct SKUs will be sold in 170 Morrisons stores nationwide, providing consumers with farm fresh vegetables. Shoppers will now be able to purchase Mash Direct's Carrot & Parsnip, Green Cabbage, Potato, Cheese & Onion Croquettes, Beer Battered Onion Rings, Beer Battered Chips and Bubble & Squeak SKUs in the ready meals' aisle.
This national listing is central to Mash Direct's accelerated growth strategy and is meeting consumer demand for high-quality and versatile convenience meals that can be incorporated at the family table. The category has seen strong demand in recent months and is now worth £3.9 billion2.
Lance Hamilton, Sales Director at Mash Direct comments: "We are delighted to launch our farm fresh award-winning vegetable side dishes into Morrison stores. This development is central to our growth strategy and means more consumers across the UK can enjoy our range of high quality, healthy, convenient ready-to-eat vegetable accompaniments at the family table.
This is a great opportunity for Mash Direct to showcase our heritage varieties of vegetables on our family farm, grown specifically for superior flavour. We have a strong working relationship with Morrisons, and we are looking forward to building our reputation in these new stores. ''
Mash Direct is headed by the award-winning Hamilton family team: husband and wife Martin and Tracy and their sons, Lance and Jack. The farm is located in the green fields of County Down, close to the shores of Strangford Lough in Northern Ireland, and the family is proud to select older heritage varieties of vegetables for their products, chosen specifically for their flavour rather than appearance.
All Mash Direct products are prepared immediately after harvesting. This ensures an unrivalled freshness of flavour and retains the natural texture and nutritional benefits of the ingredients. The full range is low in saturated fat, gluten-free and free from artificial flavourings, preservatives and colourings.
This slideshow requires JavaScript.
The Mash Direct Family Story:
Mash Direct is an independent company started by Martin and Tracy Hamilton at their family-run farm in Comber, in 2004. The Hamilton's began farming the fields around Strangford Lough back in the 1800s and the land has been passed down through six generations, bringing with it a wealth of understanding and knowledge of the area and growing conditions.
After successfully growing and selling vegetables for 25 years, Martin, who is a fifth generation son of the soil, and Tracy decided to embark on a new direction for their farm, with the aim of combining the tastes of yesterday with modern convenience and innovation.
Today, Mash Direct is a family affair with Martin, Tracy and both of their sons, Lance and Jack all helping Mash Direct on its journey to become a national, household name. From the initial dream of making traditional 'Ulster' Champ for convenience in 2004, the Hamilton family has grown Mash Direct into a National household brand, employing 217 people.
The Hamilton family developed a small factory on their farm to capture a traditional cooking style, specially designing and building a number of pieces of equipment including a unique masher and steam cooker. The bespoke equipment ensures that the vegetables can be steamed gently to retain optimum nutrients and capture the fresh harvested flavour and texture.
Mash Direct is also committed to environmental management and assists in restoring farmland and biodiversity to improve the quality of water, air and soil. All packaging is 100% recyclable ensuring that Mash Direct has improved its environmental footprint.
From 16th September, Mash Direct's Carrot & Parsnip, Green Cabbage, Potato, Cheese & Onion Croquettes, Beer Battered Onion Rings, Beer Battered Chips and Bubble & Squeak editions are available in Morrisons stores nationwide.