ARE YOU SUFFERING COCKTAIL CONFUSION? POSTAL PICK-N-MIX FOR THE ETERNAL PROCRASTINATOR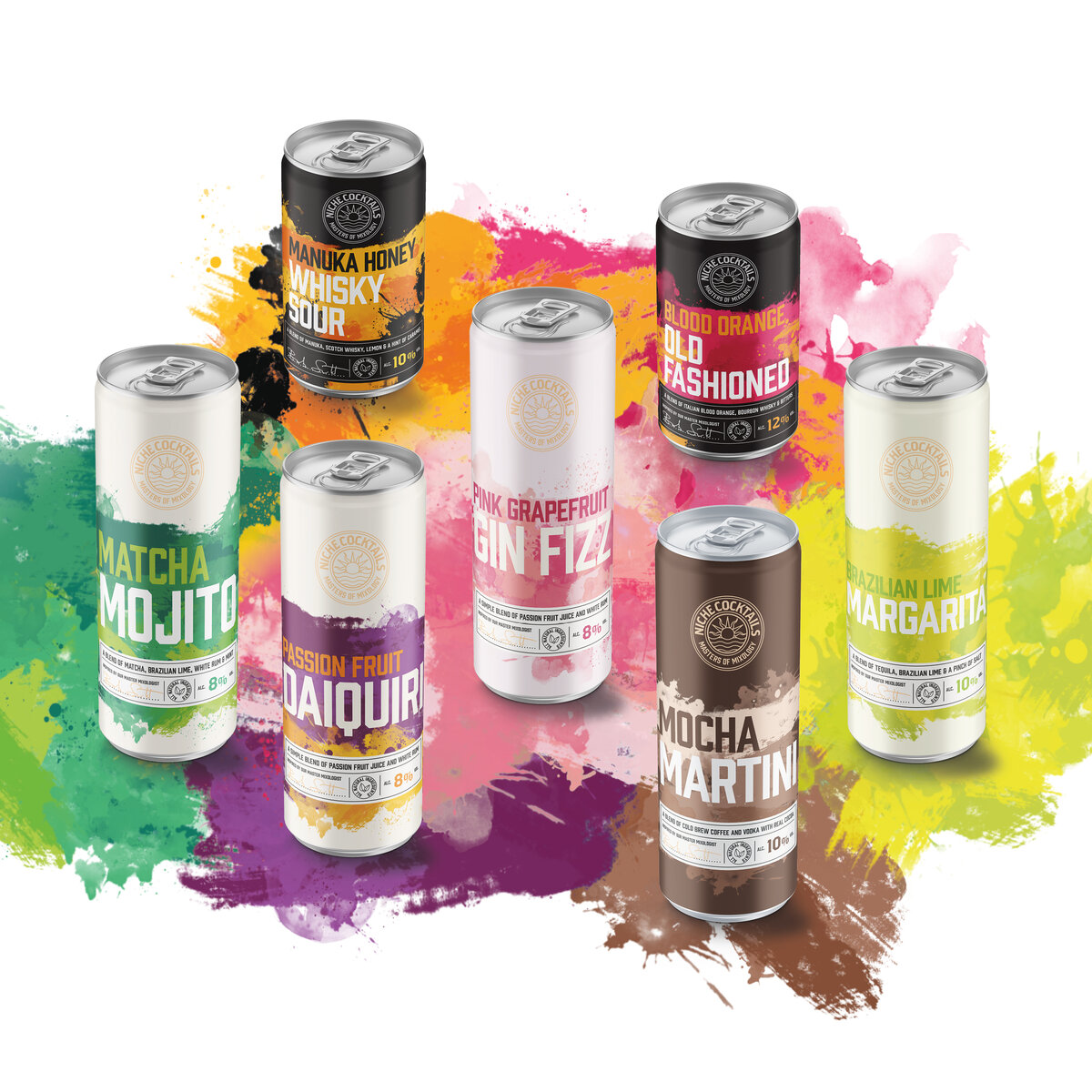 PROCRASTINATORS Rejoice! If choosing your perfect canned short sees you descend into an indecisive meltdown, then Niche Cocktails have the perfect answer.
The rapidly expanding beverage brand – which only emerged in the midst of the UK lockdown – has now launched its Personal Pick N Mix option.
Already popular for its Blood Orange Old Fashioned, Manuka Honey Whisky Sour, Matcha Mojito, and Passion Fruit Daiquiri, the company unveiled its summery creation of a Pink Grapefruit Gin Fizz at the beginning of August, and soon afterwards released its Mocha Martini and curiously named Paddy's Pink Pleaser.
Now with seven flavour combinations available, Niche is giving its can-loving clientele the option to choose its own mix of cocktails – in either a box of six, 12 or 24.
The selections are then despatched within 24 hours, and offer the ideal evening-drinks combination for those enjoying late summer staycations (or for those privately celebrating the fact children have returned to school!).
Emily Mummery, Operations Manager, said: "We spotted from the purchasing habits of our online traffic that so many of our customers start hovering over their selections and procrastinating about which drinks to put in their basket.
"A pick-n-mix approach is perfect – whether you live on your own and want to vary your choices throughout the week, or whether you're gathering in the garden with your social bubble and want to give people the opportunity to taste-test several drinks."
Niche Cocktails, the first UK company to produce canned shorts, has a production facility in its home county of Suffolk in the East of England.
Each drink is served in seconds, and features premium flavourings to assure customers of a drink as good as if it were prepared by an accomplished mixologist.
Niche's individual flavours sell at a price of £3-3.50 retail, with an on-trade of between £6 and £10 per serve.
Its Pick N Mix costs £18 for 6, £36 for 12 and £72 for 24.
Gift boxes start from £10.
For more information, visit the Niche website at: https://www.nichecocktails.co.uk/our-range