Chef's Special Menu at Bang Bang Oriental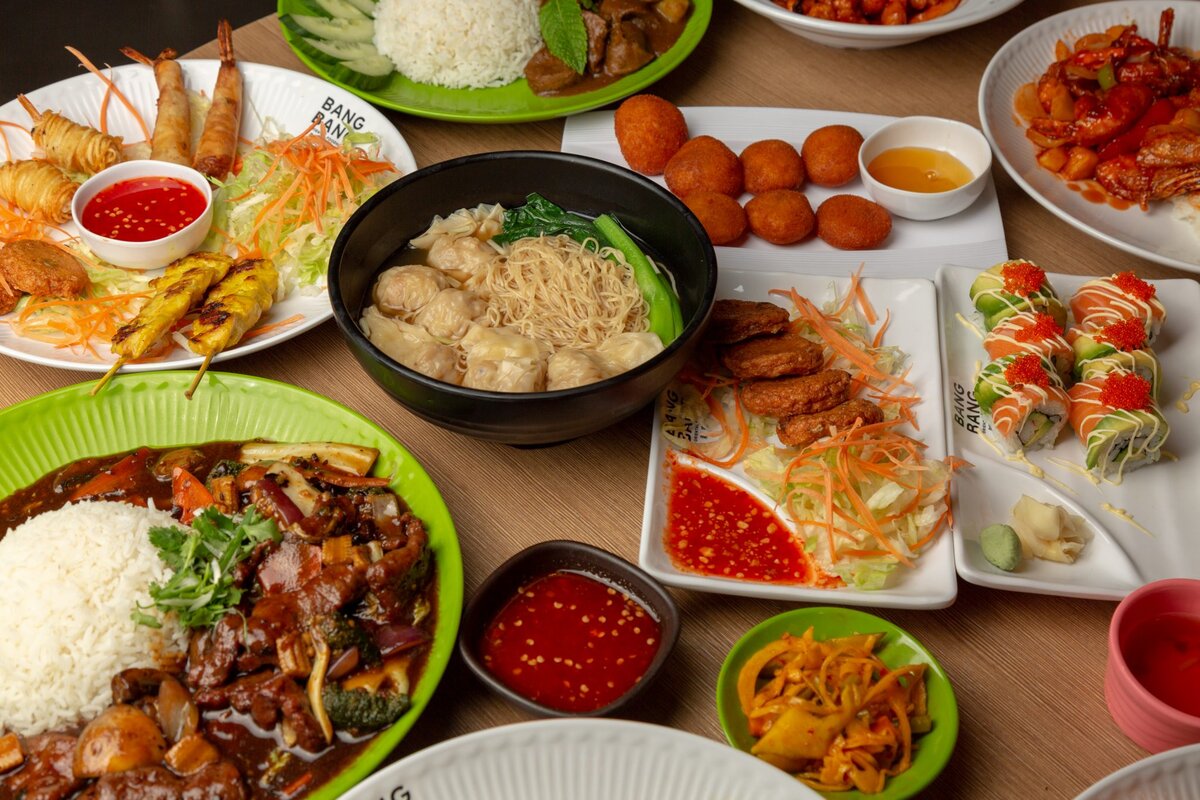 Looking for something special this November? Bang Bang Oriental in Colindale has launched its chef's special menu with a range of tasty dishes starting from as little as £4.15. Available till Friday 30 November 2018 guests can enjoy a selection of exclusive eastern dishes at London's largest Asian food hall in the heart of North London.
LongJi Hong Kong Restaurant
Seafood with Fried Noodles – £8.95
Salt & Chilli Squids – £7.85
 Yaki Ya Grill Japan
Chicken Teriyaki Rice Burgers with Drinks and Choice of Edamame/Padron Peppers- £10.00
 Janchi Korean Kitchen
Soondubu-Jjigae with Rice – £9.50
Four Seasons
Salted Egg & 3 Combo with Rice – £10.50
Royal China One68
Prawn Dumplings – £4.55
Crispy 'Char Siu' Pork Puff Pastry – £4.15
ICHIBAN
Unagi Bento – £13.80
Stir Fried Udon with Mixed Seafood – £8.80
 Xi-Home
Pork, Mushroom & King Prawn Dumplings – £11.80
Sichuan Style Cold Noodles – £8.50
Deep Fried Sweet Pumpkin Cake (6pcs) – £4.50
Little Thai Silk
Chicken in Red Wine Sauce – £9.25
Prawn in Red Wine Sauce – £9.25
Mixed Platter – £8.95
Thai Fish Cake – £4.85
Thai Spicy Prawn Cracker – £2.00
Crispy Chilli Beef with Rice – £9.25
Uncle Chilli
Soft Shell Crab – £7.80
Café La Viet
Lemongrass Chicken – £8.80
Bamboo Hut
Sautéed Spicy Chicken – £8.50
 Manila Kitchen
Chicken Lomi – £8.95
Hakka
Black Pepper Sauce – £8.90
Kung Po Chicken – £8.90
Stir Fried Pork and Lemongrass – £8.90
 Coconut Tree
Lamb Curry with Rice – £9.00
Beef with Mixed Vegetable in Black Bean Sauce – £8.50
Man Kee
House Special Wonton Noodles – £7.95
 Oishi Tasty Sushi
Oishi Tasty Sushi – £7.80
Salmon Set (10pcs) – £7.20
 Wang Wang Western Grill
Grilled Skate Fish – £12.99
Seafood Spaghetti – £10.99
Bang Bang Oriental, London's biggest Asian food hall, brings a pan-Asian culinary experience and cultural entertainment concept to the capital. Bang Bang Oriental encompasses a food court, Golden Dragon restaurant, and community space – all under one roof.
With 24 individual kiosks offering an eclectic mix of Chinese, Korean, Japanese, Indian, Vietnamese, Taiwanese, Malaysian Thai, Hong Kong, and Filipino cuisine, as well as a bar for refreshments and alcoholic beverages. This sophisticated and affordable food court brings the energy and authentic vibe of an Asian Street Food Market to London
The venue is open Monday to Thursday from Noon until 10pm, Friday and Saturday from 11.30am until 10.30pm and Sunday from 11.30am until 9.30pm. Three hours of free parking is available.
Bang Bang Oriental Foodhall, 399 Edgware Road, NW9 0FH
Instagram: @bangbangoriental
Twitter: @bangbangofh
Facebook: BangBangOriental