THE LONGFLINT DRINKS CO. LAUNCHES WILD HEDGEROW GIN AND TONIC IN A CAN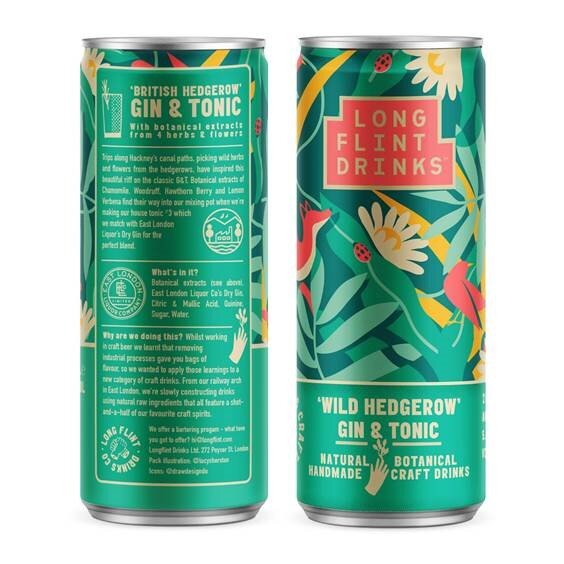 The Longflint Drinks Co. is excited to announce the launch of its Wild Hedgerow Gin and Tonic in a can. Inspired by trips along Hackney's canal paths, picking wild herbs and flowers from the hedgerows, this riff on the classic G&T has botanical extracts of Chamomile, Woodruff, Hawthorn Berry & Lemon Verbena matched with East London Liquor Co's Dry Gin for the perfect blend.
Whilst working in craft beer, Longflint founders learnt that removing industrial processes resulted in maximum flavour, so applied that learning to a new category of craft drinks. From a railway arch in east London, The Longflint Drinks Co. is slowly constructing drinks using natural raw ingredients that all feature a shot-and-a-half of craft spirit. The can, which is designed by French artist Monge Quentin, is a sublime cacophony of colour, patterns and characters.
Co-founder James Law said: "The response we've been getting from those who have had a chance to taste it has been phenomenal with one excited drinker announcing: 'This is the gin in a tin that changes everything!' We are incredibly proud to bring to market a category changer, elevating the quality and taste of your average G&T in a tin."
Wholesale pack size – 12 x 250ml cans
Shelf life – 12 months
RRP – £2.79 including VAT
Available to purchase at Whole Foods.