British Airways Launches Inaugural Flight to Fort Lauderdale, Florida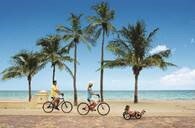 British Airways is launching its inaugural direct flight to Fort Lauderdale  on 6 July 2017, linking the UK to one of Florida's premier holiday destinations.
Fort Lauderdale, one of the most dynamic and welcoming cities in the Sunshine State, situated just 28 miles north of Miami, enjoys an average year-round temperatures of 25 degrees and basks in 3,000 hours of sunshine a year. It's a city that boasts 23 miles of golden sand beaches, Venice-like waterways, colourful wildlife and an electric arts scene.
To celebrate the launch, Colletts Travel is offering 7-nights in Fort Lauderdale based on two people sharing a twin/double room at the W Fort Lauderdale from £1,139 pp, saving £700 per booking. This includes World Traveller return economy, direct flights with British Airways from London Gatwick, departing on 06 July 2017 (ATOL Protected 2996) and a free daily continental breakfast for two.
Greater Fort Lauderdale is ready to welcome the new flight with a collection of events, exhibitions and performance which promises to wow new British travellers. Here are the top reasons to visit in 2017:
Visit Greater Fort Lauderdale's majestic coastline
The destination's stretch of Atlantic coastline remains one of the only beach where swimmers, divers and snorkelers can safely enter the reefs straight off the shore. There's no need to charter a boat to explore the natural coral and artificially sunken reef system off the area's coastline – just walk directly from the shore to the sea. Fort Lauderdale beach is a perfect, golden sandy stretch to explore. Visitors can enjoy activities including water sports such as boating on the inter-coastal waterway, sailing, surfing and wake boarding.
Visit Fat Village on the last Saturday of every month
Fort Lauderdale's art district, aka Flagler Arts & Technology (FAT), is a haven of artist studios, galleries and creative spaces which can be discovered via one of its monthly art walks hosted by local volunteers. On the last Saturday of every month, a curated art exhibition, pop-up bars and food trucks line the streets and attendees can stop into the storefronts to check out some of the most provocative art in South Florida.
Downtown Hollywood Mural Tour on the third Saturday of every month
This Art Walk is the largest walkable mural project in Broward County, curating contemporary outdoor murals at key locations in Downtown Hollywood to enhance and enrich the existing cultural fabric of the Fort Lauderdale community. A notable highlight to the third Saturday Downtown Hollywood Art Walk is the monthly DHMP mural tour. The tour is free and open to the public and sometimes features a muralist at putting finishing touches on their wall where they engage with the public and discuss their distinctive works.
Old Town Untapped on the first Friday of each month
Old Town Untapped is South Florida's premier Craft Brew and Arts Festival. A night filled with free craft beer samples from Fort Lauderdale's own Pompano Beach breweries with live music, food trucks and art exhibitions. The water on the Pompano Beach stretch of coastline is some of the warmest and clearest in South Florida due to a bend in the Gulfstream. Entry to Old Town Untapped is free to the public.
Food In Motion on the second Friday of each month
On the second Friday of each month local artisans, farmers, home bakers and food trucks converge on the Peter Feldman Park, Fort Lauderdale. This after dark foodie and farmers market, running from 5-11pm, showcases the best of local Fort Lauderdale gastronomy. Prepare to be satisfied with fresh produce, food trucks, vegan options and gourmet baked. Food In Motion also features live music and other locally made artisan gifts and more. Entry is free.
Museum of Discovery and Science Moonlight Sea Turtle Walks for June and July 2017
Taking place during peak sea turtle nesting season, Turtle Treks host guided tours for the chance to witness and interact with these magical creatures. Budding naturalists have the rare opportunity to see new-born sea turtles emerging from their nests on Fort Lauderdale's shores. The guides educate their audience on the threats these tough hatchings face while rescuing any turtle that mistakenly scurry to the bright city lights. Although guaranteeing a hatching on every walk is not possible, if the tour is lucky enough to witness this natural wonder it is a truly unforgettable experience. Prices are $19 for members and $21 for non-members of the Museum of Discovery and Science.
The Summer of Love held from June – Sept 2017
As part of the Summer Of Love exhibition, The Young At Art Museum is bringing its celebration to Fort Lauderdale Beach for a series of six events called, XOXO: Love & Art on Fort Lauderdale Beach. These events include the 'Studio Paint Mixers' workshop event to be hosted on the second Thursday from June to August, a Flower Power Mural experience on 22 July, the creation of the world's largest peace sign on 19 August and on 02 September an open air painting workshop with local artists.