'Commended' in the Innovation Awards at Casual Dining 2015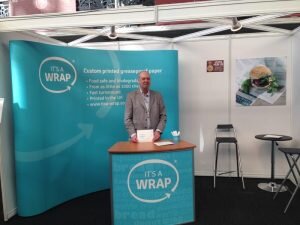 The Innovation awards were designed to showcase the most upcoming and innovative brands, offering solutions to the food and catering trade.  Eliciting the votes of members watching, the shortlisted finalists, 'pitch' their businesses in a Keynote Auditorium.  This was considered the fairest way of judging which brands and ideas were the ones that were deemed most innovative, by a wide selection of catering and food retail customers.
The competition saw entries from a wide array of competing brands, including everything from the manufacturer of a new super efficient refrigeration system, through to new food brands and flavours, solutions for the allergy market and packaging solutions like our own bespoke custom printed greaseproof papers.
The panel of this year's judges included leading pub and restaurant entrepreneur Peter Borg-Neal, chief executive at Oakman Inns & Restaurants; Brian Whiting, owner of award winning pub group Whiting & Hammond; and Keith Bird, commercial director at Gourmet Burger Kitchen.
It was a great, albeit nerve-wracking opportunity, to showcase our papers, said Mike Clarke, It's a Wrap Sales Director.  After being inundated with enquiries for the entire duration of the show, it made a fantastic end to the event to achieve 'Commended' status.  In addition, I think it's a great recognition for all the hard work everyone associated with the brand has put in since its inception.
We have come back with a vast number of enquiries to cost, for a diverse range of food retailers, who all loved the versatility of our product.  As they said, it's not just for wrapping food for freshness it's about keeping ingredients intact preventing grease seepage and really being able to promote your brand and change promotion on the wrap frequently.
The bigger brands who have been using printed greaseproof paper for some time, loved the fact that using It's a Wrap is actually affordable to print on a localised level. One supermarket, we are preparing quotes for, would then be able to have a total quantity of 1,500,000 sheets produced but broken down into smaller numbers per localised store.
We certainly agree with their strategy of identifying with your loyal local customers and the local community wherever possible and It's a Wrap enables them to do that.
The smallest brands we spoke to such as individual fish and chip shops and new start up cafe ventures were equally thrilled. For only a few hundred pounds, they could start their ventures looking as professional as the big brands but only have the upfront expense for 1,000 sheets.
We are looking forward to a very busy Spring said Mike. Both the Directors of the company are very grateful to everyone who has voted to help them achieve Commended in the Innovation Awards, and for the fabulous word of mouth exposure existing customers have given them.