Crush Dry January with Beavertown Brewery's tasty selection of alcohol-free beers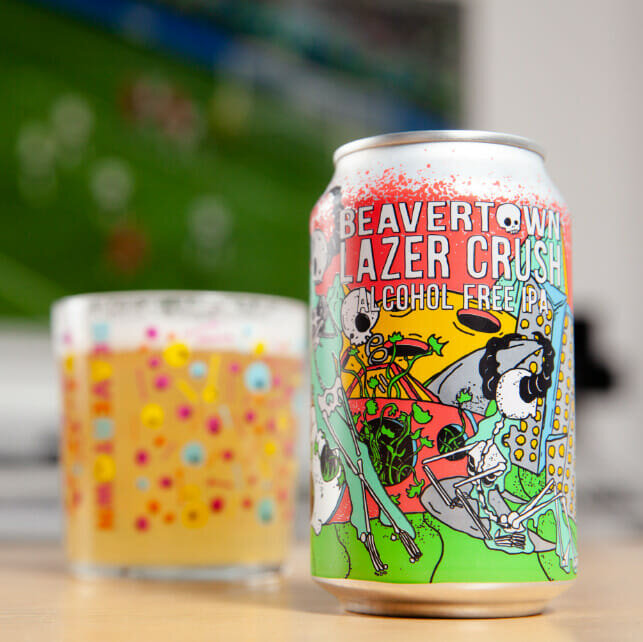 Lazer Crush (0.3% ABV) is an alcohol free IPA that's perfectly balanced with citrus undertones and topped with subtle notes of pine for that ultimate fresh taste
Astro-Nought (0.5% ABV) is a clean and crisp alcohol free lager with a hint of lime zest freshness and a ridiculously light cereal character
Lazer Crush is available at Waitrose and Sainsbury's or via the Beavertown webshop here, and Astro-Nought is available exclusively via the webshop here
Order a pack of 24 x Lazer Crush for a free Lazer Crush Tumbler – offer runs until 31 January 2023.
This Dry January, don't settle for tasteless non-alcoholic drinks. Attack the new year head-on and make this dry month count with Lazer Crush and Astro-nought, Beavertown Brewery's alcohol-free IPA and lager. Priced at £1.60 and £2 per 330ml can, they're available to purchase via the Beavertown webshop here.
A heavyweight name for a featherweight beer, Lazer Crush has been expertly brewed with a new type of yeast to provide its delicious fruity flavour, with only 0.3% ABV created during fermentation.
Boasting a crisp and mildly malty base followed by a wave of fruity undertones, Lazer Crush is perfectly balanced and topped with subtle notes of pine for that ultimate fresh taste. From mango and the sweet orange flavour of Amarillo to zesty citrus and grapefruit bitterness, Lazer Crush is the perfect drink for a rocket-fueled Dry January.
Lager lover? Fear not, Beavertown has got you covered with its first-ever alcohol-free lager Astro-nought. With a 0.5% ABV, this light and refreshing lager offers a clean flavour with a hint of lime freshness and a crushably light cereal character – the perfect thirst quencher for any spacewalk, space-run or space-sit-down. Available at £2 per can on the Beavertown webshop here.
If you're not planning on taking part in Dry January but fancy something a bit lighter, Nanobot is the beer for you. This light, crisp, 2.8% ABV, 86 calorie can packs flavours and aromas of hoppy citrus and pineapple. It's low ABV and low calorie but uncompromising on flavour. Priced at £1.90 and available to order on the webshop here.
Fan of January deals? Customers who order a 24x case of Lazer Crush before the 31st January will have a Lazer Crush Tumbler added to their order free of charge – doesn't get much better than that. (T&C's apply)*.
Beavertown's no and low ABV beers are available in a range of bundles and can be bought alongside Lazer Crush merch including sweatshirts, pint glasses and keyrings. See full list of low/no bundles and merch below:
Beer + Bundles
Merch
Lazer Crush Sweatshirt – priced at £30 here.
Lazer Crush Can Keyring – priced at £5 here.
Lazer Crush Tumbler Glass – priced at £5 here.
Lazer Crush Pint Glass – priced at £5 here.