Why are staff uniforms important in hospitality?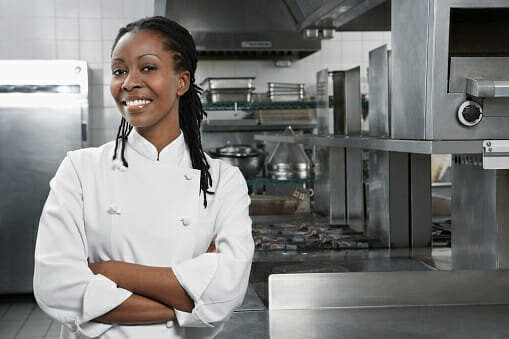 Hospitality businesses are all about the customer experience. Hotels, bars and restaurants welcome paying customers in return for a seamless and memorable experience. There are many elements to this, from the food and drink to the atmosphere and facilities. One factor that can make or break a hospitality customer experience is the staff. They are the first and most significant point of contact for customers, so ensuring they are providing a good service is essential. How they look can also play a big role in customer satisfaction – below we explore why.
Help customers identify staff
First and foremost, staff uniforms assist customers in identifying staff if they require service or help. This is a significant factor in the customer experience because customers who feel as if there is no one to serve them or assist them can feel undervalued and ignored. With recognisable and professional work attire, your team should be able to serve customers with greater effectiveness and efficiency.
Team performance
Having all your staff wearing the same workwear is also important to give the group unity. This can create a shared sense of responsibility and accountability for the work the whole team is doing, which is an effective way to improve customer service. It brings colleagues together and can create a more healthy work environment.
Standards and discipline
Having a uniform helps to set basic standards and expectations of staff when they show up to work. This is likely to boost discipline and keeps a more consistent level of customer experience which is vital for reviews. Getting the basics right is critical when it comes to customer service and a consistent uniform can be the foundation for this factor.
Brand identity
Branding is also a significant consideration in the hospitality industry, both to create a more consistent customer experience and to assist brand awareness. It should be constant across the different types of workwear, whether it be front of house, chefs, cleaners or bar staff. Again, customers prefer to be able to identify staff easily and branding allows them to do this.
Hygiene
Health and safety standards are essential in all areas of hospitality and staff workwear has a role to play in this. Kitchen staff need to wear clothing that prevents food contamination and front-of-house staff must wear clean clothing that maintains the ideal environment around guests and customers. Uniforms should be clean before each shift and personal hygiene should be a given for any staff.
Staff workwear can be beneficial for hospitality businesses for several reasons. Not only can it bring your team together and boost accountability, but it can create a more comprehensive customer experience and improve reviews if the fundamental product or service is of high quality.