How To Create the Perfect Al Fresco Dining Experience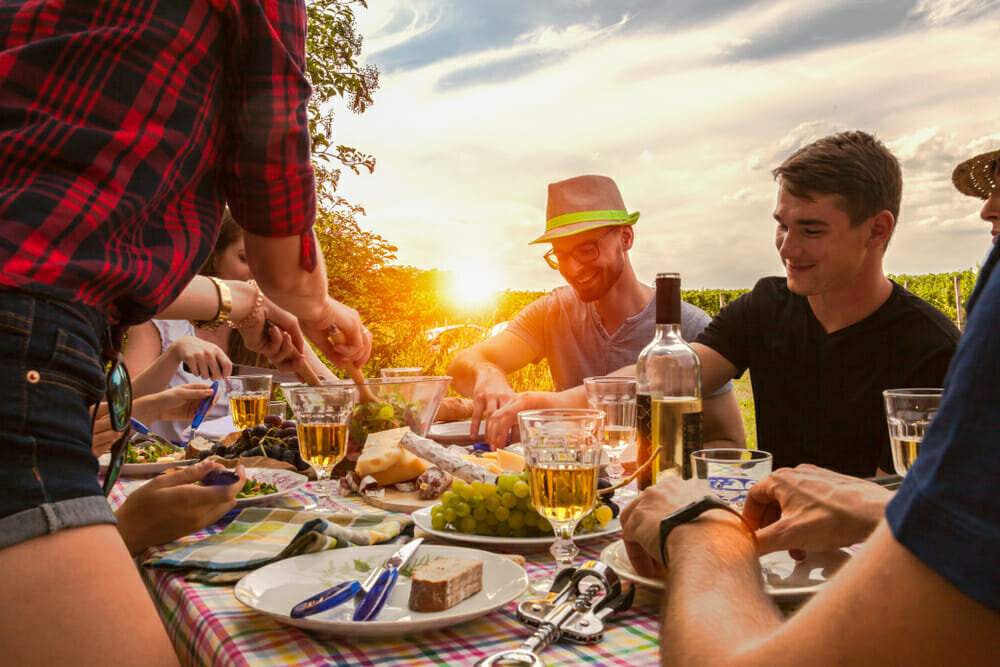 As summer begins to bloom across the country, there's no better time to make the most of the sunshine. One of the nicest ways to do this is by leaving the house and dining outside with family and friends.
This year is particularly special, as the UK celebrated the Queen's Platinum Jubilee in early June. So whether you're planning a celebratory lunch, afternoon tea, or a cosy evening dinner, we've put together five steps for creating the perfect al fresco dining experience in your home.
1. Choose your furniture
You don't need to have a large garden or outdoor area to try out al fresco dining; it's all about using your space creatively.
Small patios can become intimate spaces for cosy, secluded dinners. Larger areas can be framed with accessories to divide dining from the rest of the garden. Any space can become a perfect al fresco experience when used to its potential, which starts with picking the right furniture.
Furniture that is too big will make your space look and feel cramped – too small and it can look lost. A general rule of thumb is to make sure that the diners (be it you or the guests) can move around the space freely. If your furniture will need to be moved or packed away often, it's best to go for lighter materials such as aluminium and items that can be easily folded or stored.
Alternatively, if you don't feel like splashing out on new furniture or don't have anywhere to store it, temporarily moving your indoor tables and chairs outdoors can be a simple and more convenient solution.
Got some old wooden garden chairs? If you're feeling arty, giving them a coat of paint can bring a new lease of life to tired or old-fashioned furniture. Choose different colours for each item for some added whimsy.
It's also worth keeping in mind that this is the UK, and the weather can change seasons within the hour. Shelter from unexpected rain with a parasol, or if you're on a small balcony, you could cosy up under a birdcage umbrella instead. If you do have the space, creating a natural roof with a pergola can make a beautiful al fresco space for celebrations in the years to come.
2. Dress the table
Al fresco dining is, by its nature, less formal than indoor dining. There are no rules on how to set up your table, so don't worry if you don't have a perfectly matching set of furniture, crockery, or glassware.
Perfectly sleek, matching sets will give your outdoor dining space a very modern and clean feel. But going al fresco can also be an opportunity to bring some of your personality into your dining experience.
Going to charity shops, antique stores, or even car boot sales is a great way to discover items that you like or that fit the intended theme for your outdoor dining.
A tablecloth or runner is a great way to instantly add atmosphere to your space. A pure white tablecloth will add brightness and elegance to any setup. A warm neutral, on the other hand, will add more of a rustic, country garden vibe. You might even create a living runner, using flowers and foliage either store-bought or from your own garden if you have them.
While we've focused on what's on your table, don't forget what's underneath it as well. Laying down an outdoor rug adds a comforting touch and helps to define the space. They are also available in a wide array of colours and, most importantly, are waterproof.
3. Set the atmosphere
Once you have your dining area set up, it's time to add some atmosphere with accessories.
Potted plants are the perfect way to bring some greenery, especially if you only have a patio or balcony to work with. They can add colour to the area, enclose the space, and make it feel a little closer to nature. If you've got herbs, the added aroma can also help to get your family or guests in the mood for eating.
If you're planning to extend your party into the evening, the right lighting is vital. A good fire pit or chimenea can bring a central focal point to your al fresco dining and is a great social place to gather around when the weather gets a bit cooler.
If you've got young children or the idea of open flames isn't your thing, hanging fairy lights or dotting hurricane lanterns around can add warmth and intimacy to your space when the sun goes down.
Like with any party, music is also perfect for bringing atmosphere to your dining. Grab an outdoor speaker and pop on a playlist that's perfect for your theme – just keep the volume low enough that your family, friends, and guests can comfortably speak over it.
4. Cosy up with blankets and cushions
Adding some soft furnishings around your al fresco space goes a long way to making it more inviting for you and your guests. Soft fabrics – be it cushions, blankets, or tablecloths and rugs as mentioned above – are a simple way to introduce comfort and cosiness.
It's also an easy way to bring in pops of colour that match the setting. For afternoon tea, you might create a softer tone with pastel colours and floral-patterned cushions.
When the weather gets a bit cooler, having blankets or throws on hand is great for your family and guests to keep the evening going without having to interrupt things to move indoors.
If you do sway towards the more informal, you might even consider sticking closer to the ground. Use low tables, repurpose empty palettes (just be careful of splinters), and swap out your chairs for oversized cushions and blankets for the ultimate relaxed dining experience.
5. Enjoy dining al fresco!
With everything set, the last thing you need to do is to decide on your menu. A buffet is ideal if you want to avoid going back and forth between your kitchen and dining area, and it allows your guests to nibble at their leisure. British favourites like pork pies and classic Victoria sponge are a staple for any British celebration. Then all that's left to do is to gather your family and friends and hope that the UK weather decides to be on your side!
We hope this article has inspired you to think more about creating your own al fresco dining experience. Remember, when it comes down to it, there are no rules. You can be as elaborate or as simple as you want – just have fun creating the perfect atmosphere and setting for your plans.