FRANKIE & BENNY'S CHALLENGES NATION TO 'GO MEAT FREE & PLANT A TREE' THIS WORLD VEGAN DAY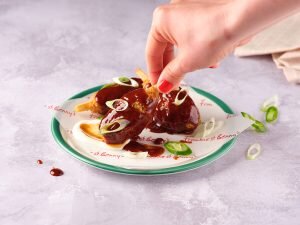 GUESTS CAN SWAP CHICKEN WINGS FOR VEGAN WINGZ FOR £1 ON MONDAYS IN NOVEMBER BETWEEN 1ST – 22ND & HELP SAVE 2KGS OF Co2E
Guests challenged to lower carbon footprint and switch chicken wings for Biff's vegan wingz on Mondays in World Vegan Month
A tree planted with every wingz challenge accepted
'Meat Free Monday', launched in 2009 by Paul, Mary & Stella McCartney, encourages people to help slow climate change and improve their health
To celebrate World Vegan Day (November 1st), restaurant brand Frankie & Benny's has today announced its support for the McCartney family's 'Meat Free Monday' campaign, challenging Brits to go meat free and plant a tree on Mondays throughout November (1st-22nd).
For four Mondays in a row during World Vegan Month, guests are being urged to swap their Sticky Chicken Wings for 'Biff's Crispy Fried Jackfruit Wingz', lowering their carbon footprint and saving money. 'The swap' is available for just £1 with proceeds going towards planting trees with 'Carbon Neutral Britain' to reduce Carbon Dioxide & Greenhouse Gases (CO2e).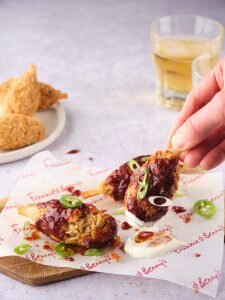 Not only will those who accept the challenge save themselves £5 – with both wing options usually costing £6 – they'll also help to offset their carbon footprint, with each chicken wing dish swapped for vegan wingz, helping to save almost 2kgs of CO2e. Additionally, for every wing portion sold, Frankie & Benny's will give a donation to an environmental charity and plant a tree with Carbon Neutral. These trees will help to absorb Carbon Dioxide, refract the earth's heat and have a positive impact on wildlife, ecology and biodiversity.
And for anyone worried about taste – fear not! Biff's are well known for their award winning Crispy Fried Jackfruit Wingz, having been a popular treat amongst foodies since 2017. Made with tender 12-spiced jackfruit in a panko crumb and special sugarcane 'bone' for that proper eating experience, it's a finger-licking feast not soon forgotten.
Frankie & Benny's 'BBQ Vegan Wingz' Meat Free Monday offer: Biff's Crispy Fried Jackfruit Wingz tumbled in BBQ sauce with a sugar cane 'bone', served with vegan mayo for just £1 (usually £6) every November Monday. More information available at biffs.co. 
Jon Knight, Managing Director of the leisure & concessions business, said: "This is an exciting partnership and one we're really happy to be embarking on with Biff's, while supporting Meat Free Monday. Meat Free Monday is a great vehicle for encouraging positive change in the community and as a brand we're proud to be doing our part. For every vegan wingz portion sold, Frankie & Benny's will provide a donation and help to fund tree planting with Carbon Neutral Britain as part of their forest projects."
Biff Bloom-Burrows, co-founder, Biff's, commented: "We're excited to be coming together with Frankie & Benny's, celebrating Meat Free Monday and challenging customers around the country to try something different and make a positive impact on the environment.
And just because there are no animals, that doesn't mean there should be less fun. Our Crispy Fried Jackfruit Wingz were created to be flavour-first and ALL about the experience, which is why you can truly eat them like a regular wing with a sugarcane 'bone'."