Entertain Virginia-Style with this Hot Sauce & Rye 'Just Add Meat' Kit 🔥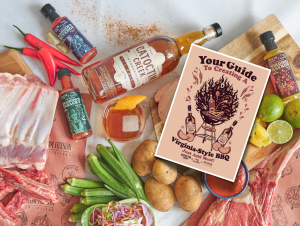 Announcing the launch of the Virginia-Style BBQ 'Just Add Meat' Kit, perfect for lovers of hot sauce and rye whisky this kit contains everything you need to recreate an authentic Virginia-style party at home.
Recipients will receive three 100ml limited edition Catoctin Creek Ranger's Hot Sauces from Brixton's The Lazy Scientist, a 700ml bottle of Catoctin Creek 80 Proof Virginia Rye Whisky and guide containing a Spotify playlist, instructions for making and playing Cornhole (a traditional Virginian garden game) and recipes for traditional Virginian sides, signature Virginia Dry Rub, and rye cocktails. The guide also contains an exclusive cooking guide by Tom Hixson of Smithfield with a 10% discount code for purchase of the suggested meat.
"To recreate an authentic Virginia style barbeque at home you need three things; dry-rubbed meats or vegetables, spicy sweet smokey sauces, and plenty of rye!" says Scott Harris, owner of Catoctin Creek Distillery located in Loudoun County in north Virginia.
"We've got as close as possible to recreating a Virginia BBQ" Tom Hixson of Smithfield
The Catoctin Creek Ranger's Hot Sauces come in three levels of heat;  Ranger's Revenge (hot), Grandpa's Tabacky (smokey spicy), Virginia Hayride Hot Sauce (sweet spicy).
The kit is available now from Native Spirits online and costs £47: https://www.nativespiritsonline.com/products/catoctin-creek-virginia-style-bbq-just-add-meat-kit