miaList industry roll of excellence is revealed for 2018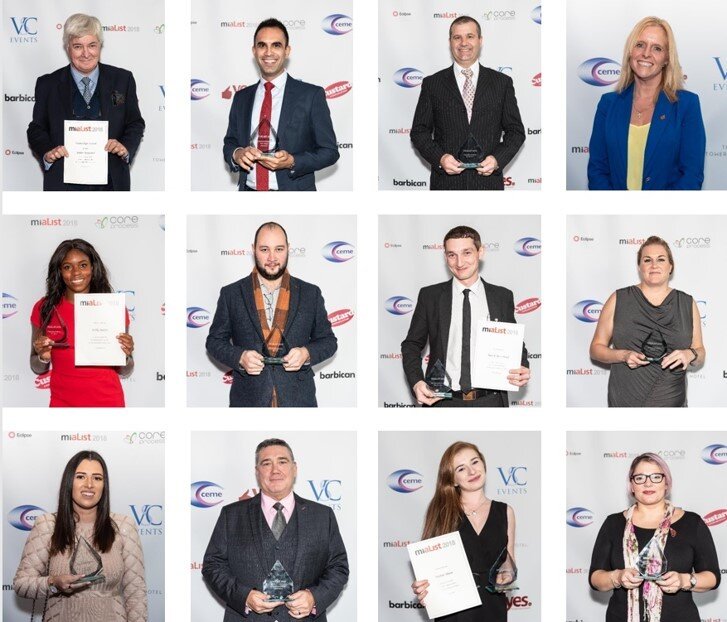 The Meetings Industry Association (mia) has revealed the names on its prestigious 2018 miaList roll of honour.
The association had an overwhelming number of nominations for the annual list, which since 2011 has been celebrating those outstanding and passionate individuals from the meetings, hospitality and events industry who go above and beyond the call of duty.
This year's sought-after miaList features 10 names as well as dedicated 'Leadership' and 'One to Watch' honours, four team and two student titles.
Robin Sheppard, Chairman of Bespoke Hotels, was awarded the coveted Leadership title. The classically trained hotelier's innovative approach to marketing has broadened the customer base of all Bespoke Hotels and led to several other awards and accolades including 'The RAC Hotel of the Year Award' and Caterer and Hotelkeeper's 'Hotel of the Year Award', as well as being named amongst Hotel Designs' Brit List 2017, which shortlists the 25 most inspirational and influential hoteliers for the year.
The One to Watch honour was secured by Milan Thakrar, Business Development Manager at Historic Royal Palaces, who impressed judges with his enthusiasm and spark for the industry as well as his approach to engaging with booking agents and implementing social media strategy.
The 10 names among the coveted 2018 miaList included:
Antonio Andrade – Laundry Manager, Tylney Hall Hotel
Leigh Cowlishaw – Director of Proposition, Capita Travel and Events
Jenni Ford – Head of Sales, Ricoh Arena
Harry Kerr-King – Conference and Events Manager, Imago Venues, Burleigh Court
Mike Lloyd – Head Chef, Tylney Hall Hotel
Kelly Moore – Senior Account Manager, The NEC
Grace Norman – Assistant Meeting and Events Planning Manager, Park Plaza Victoria
Martin Reeves – Group HR & Development Manager, Classic Lodge Hotels
Aislinn Sloan – Food and Beverage Supervisor, Hope Street Hotel
Helen Wynn – Director, Carringtons Catering
Sponsored by Core Process, this year the miaList has four team award categories – Meetings & Events Venues; Bookers, Suppliers and Consultants; Conference Centres; as well as Academic Venues. With a shortlist of teams presented by the mia it was down to industry peers to vote for which team took home each title.
From a shortlist of six for the Meetings & Events Venue title was awarded to The Grand Brighton. Marketing agency Patch Media was named the Bookers, Suppliers and Consultants winner, while the NEC scooped the Conference Centre title and College Court Conference Centre & Hotel was voted winner of the Academic Venues award.
Judges voted Cariad Williams from the University of East London for the Graduate award and Rhys Gillard from Leeds Beckett University for the Post-Graduate accolade after performing at a level above their contemporaries and displaying exceptional understanding of the industry.
Kay England, chair of the mia said: "The miaList is such a great initiative allowing us the chance to take a step back to recognise and showcase the incredible and inspiring talent working within our industry. The 2018 list features some exceptional individuals and teams whose dedication, innovation, leadership and commitment to the industry knows no bounds."
Jane Longhurst, chief executive of the mia, said: "Now in its seventh year, the miaList has become a deep-rooted part of our work driving industry standards and recognising the outstanding talent we have working within our fabulous sector. On behalf of the mia I'd like to congratulate those who have secured their name on our esteemed role of honour and would like to extend my thanks to all of our partners, judges and supporters for their part in contributing to the ongoing success of the miaList."
The miaList judging panel represented all sectors of the event industry – buyers, agents and venues – and included: Rob Flinter of Park Plaza Victoria, Lacy Curtis-Ward of The Lensbury, Gill Smillie of Conference Venues Countrywide, Carol Primett of Anglian Water, Amanda Thurlow of ACCA, Richard O'Riordan of Tower Hotel London, Robert Kenward of YOU search & select and Mark Gallen of MG Sales Performance.
The miaList winners were revealed at a prestigious ceremony on Friday, 2 November at The Tower Hotel, London.