GREY GOOSE® UNVEILS NEW LIMITED EDITION SUMMER BOTTLE DESIGNED BY FRENCH RIVIERA ARTIST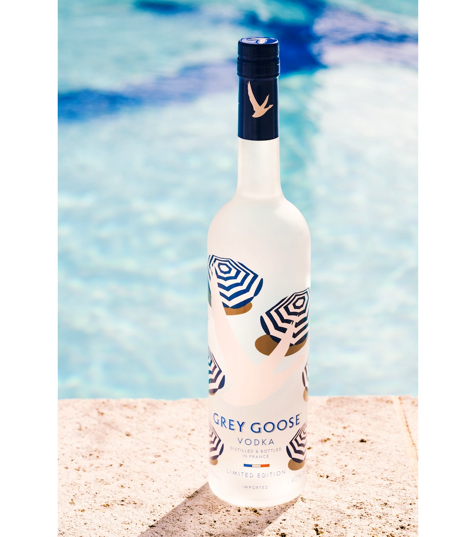 Ever wanted to experience the French Riviera in an instant? To celebrate a Summer well lived, GREY GOOSE are launching a bottle signed by acclaimed French illustrator Quentin  Monge.  The  new bottle  takes  inspiration  from  the blue-­‐and-­‐white  striped  parasols that stretch the sun-­‐kissed coastline of the Côte D'Azur transporting you to the blue beaches of  St. Tropez, Cannes and Juan-­‐les-­‐Pins.
Renowned digital illustrator and artist Quentin Monge grew up in the heart of the French Riviera, on the beaches of Sainte-­‐Maxime. It was whilst immersed in these surroundings that he was inspired to create the artwork he is best known for. Drawing on the vibrant colours of the South of France, the spiritual home of many artists including Henri Matisse, Pablo Picasso and André Derain, Quentin Monge's bottle reflects his signature "stylishly whimsical" aesthetic.
The bottle perfectly complements GREY GOOSE's signature summer cocktail, Le Grand Fizz. An elevated twist on the classic vodka soda, Le Grand Fizz is a balanced blend of GREY GOOSE Vodka, St-­‐Germain® Elderflower Liqueur, soda water and lime, served in a sweet wine glass to accentuate its vibrant nose. Made with only the finest French ingredients, the effortless recipe champions the light and bright flavours of the cocktail's refreshing ingredients, making it the perfect drink for a summer well lived.
The new bottle will be available exclusively at Sainbury's. RRP: £40
facebook.com/GREYGOOSE – twitter.com/GREYGOOSE – youtube.com/GREYGOOSEvodka