British Museum of Food announces crowdfunding campaign to launch SCOOP: The Wonderful World of Ice Cream, an ice cream exhibition in London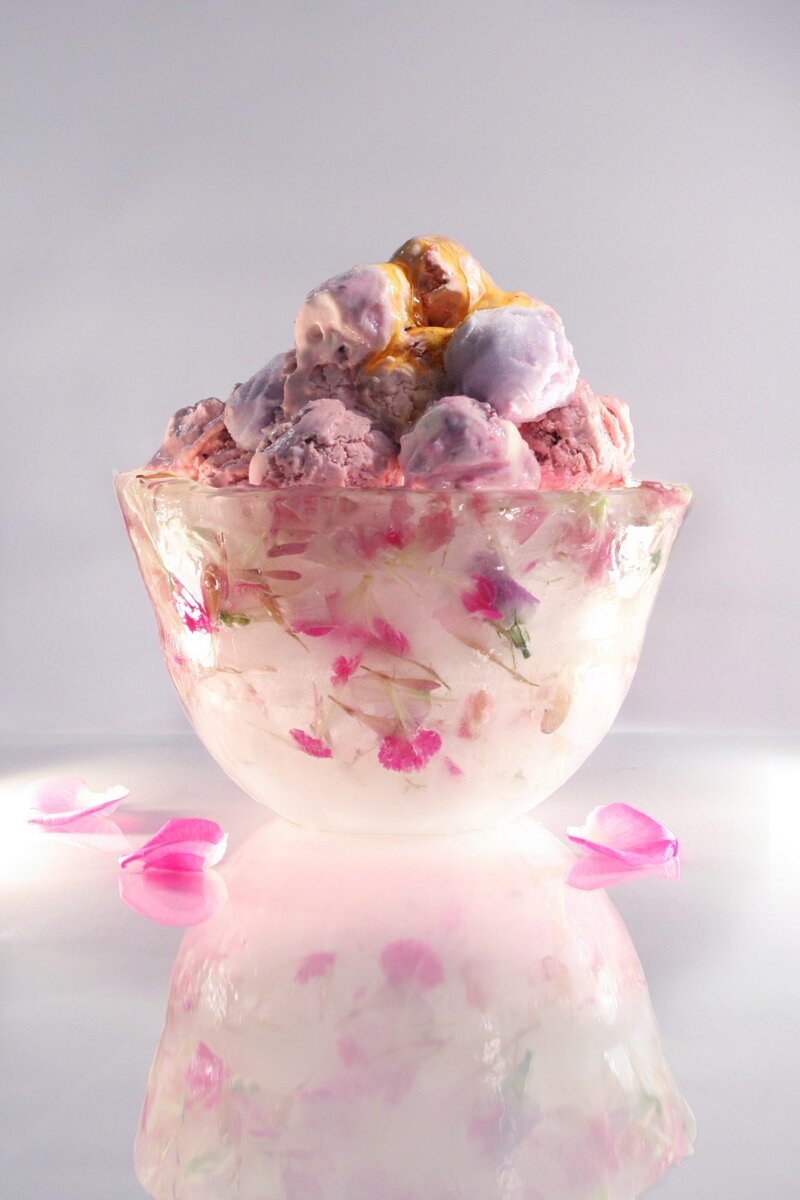 Do you want an ice cream exhibition to launch in London this summer? The British Museum of Food is announcing a crowdfunding page to bring the first major exhibition that explores the history and sensory pleasure of the nation's favourite summertime treat, ice cream, to the capital.
The campaign is being fronted by museum founders Bompas & Parr. If you pledge to make the exhibition happen, not only will you have free tickets to SCOOP: The Wonderful World of Ice Cream, but your name will feature on the Patron's Wall of Frozen Fame. Other prizes include having your face made into ice cream, and even having ice cream for breakfast with Sam Bompas & Harry Parr in five year's time.
The preview video can be watched here on the Indiegogo page: https://igg.me/at/esTuCWioMx0/x/18678954
SCOOP will open at the height of summer for three months if the crowdfunding target is reached and will feature the world's largest collection of historic ice cream paraphernalia. This never-before-exhibited collection will be drawn from 14,000 vintage equipment, service-ware, advertising, and music collected over 40 years by Robin and Caroline Weir ranging from Victorian ice cream moulds to an Andy Warhol print. Robin and Caroline Weir are the authors of the award-winning book — "Ice Creams Sorbets and Gelati The Definitive Guide" from Grub Street Publishers.
The exhibition will coincide with the 300th anniversary of Mary Eales' Receipts (1718), the first printed volume to feature ice cream in an English publication and the 399th anniversary of the first ice house built in Britain (to make ice cream) in Greenwich Park by order of James 1.
A special feature of this exhibition will be a focus on the life and ingenuity of Agnes B. Marshall, known in Victorian times as the Queen of Ices. Far ahead of her time, Marshall wrote several successful cook books, patented an ice cream machine and even suggested using liquid nitrogen to make ice cream as early as the late 1800s. Visitors will get to 'meet' Agnes's amanuensis as part of an immersive and interactive theatre performance. Heston Blumenthal, recipient of multiple Michelin stars, called Marshall: "one of the greatest culinary pioneers this country has ever seen."
SCOOP: The Wonderful World of Ice Cream will further include curated galleries, and a programme of talks, events, workshops and wonders including real glacial ice, ice cream weather and glow-in-the-dark ice cream. More details will be announced pending the success of the Indigogo campaign.
Ticket-buyers who pledge as part of the Indiegogo campaign can benefit from the following:
Pledge £3 or more – Our undying gratitude – every penny counts. We salute you
Pledge £5 or more – A handwritten thank you card from Sam Bompas & Harry Parr + your name on the Patrons' Wall of Frozen Fame + sachet of ice cream salt
Pledge £10 or more – One ticket to SCOOP (regular price £12) + your name on the Patron's Wall of Frozen Fame + thank you card from Sam Bompas & Harry Parr
Pledge £15 or more –  One ticket to SCOOP + deluxe ice cream from Conehenge (the café in the exhibition) + a hand written thank you card from Sam Bompas & Harry Parr + your name on the Patrons' Wall of Frozen Fame
Pledge £18 or more –  Two tickets to SCOOP (regular price £24) + a handwritten thank you card from Sam Bompas & Harry Parr + your name on the Patrons' Wall of Frozen Fame
Pledge £20 or more – Family ticket to SCOOP (2 adults, 2 kids under 16) + a handwritten thank you card from Sam Bompas & Harry Parr + your name on the Patrons' Wall of Frozen Fame
Pledge £50 or more – Signed book, Ice Creams, Sorbets and Gelati: The Definitive Guide by Caroline Weir and Robin Weir + two tickets to SCOOP + a handwritten thank you card from Sam Bompas & Harry Parr + your name on the Patrons' Wall of Frozen Fame
Pledge £100 or more – An engraved silver ice cream spoon to impress your friends + four tickets to SCOOP + a handwritten thank you card from Sam Bompas & Harry Parr + your name on the Patrons' Wall of Frozen Fame
Pledge £250 or more – Eat an ice cream for breakfast with Sam or Harry in five years + four tickets to SCOOP + a handwritten thank you card from Sam Bompas & Harry Parr + your name on the Patrons' Wall of Frozen Fame
Pledge £500 or more – Personal tour of SCOOP from our curator Lisa Slominski for up to 10 people + a round of ice creams from Conehenge + a handwritten thank you card from Sam Bompas & Harry Parr + your name on the Patrons' Wall of Frozen Fame
Pledge £800 or more – Have your face made into an giant ice cream + four tickets to SCOOP + a handwritten thank you card from Sam Bompas & Harry Parr + your name on the Patrons' Wall of Frozen Fame
Pledge £1000 or more – Name the Glow-In-The-Dark Ice Cream chamber that explores the future of ice cream + two tickets to SCOOP so you can bring someone to impress with your foresights + a handwritten thank you card from Sam Bompas & Harry Parr + your name on the Patrons' Wall of Frozen Fame
Pledge £1200 or more – Naming rights to a three-month season of lectures. Have them named after you and then come as an honoured guest (and bring three friends) to each one + ten tickets to SCOOP so you can bring friends to impress with your foresights + a handwritten thank you card from Sam Bompas & Harry Parr + your name on the Patrons' Wall of Frozen Fame
Pledge £2000 or more – Name the sprinkle fountain + four tickets to SCOOP + a hand written thank you card from Sam Bompas & Harry Parr + your name on the Patrons' Wall of Frozen Fame
Pledge £2500 or more – Sam Bompas will visit your company bringing armfuls of ice cream and give a 45-minute talk on the studio's work to your staff. This talk can be tailored to your specific needs and could be Ode to the Stomach: An Adventure in Culinary Creativity, Bompas & Parr's Toolbox Talk: A Look at the Studio's Favourite Ice Cream Devices and Recipes or Gut Feelings: Food of the Future + your company's name on the Patrons' Wall of Frozen Fame + a signed copy of Feasting with Bompas & Parr for your boss. Price does not include travel which will be an additional cost (if outside London)
Pledge £5500 or more – Annoy the Daily Mail by finally bringing a giant pineapple to London. You have naming rights too. A vast architectonic pineapple (named as you like) will be installed outside the exhibition. + ten  tickets to SCOOP + a hand written thank you card from Sam Bompas & Harry Parr + your name on the Patrons' Wall of Frozen Fame