Not Just One of Britain's Best Gins – But a 'Good' Gin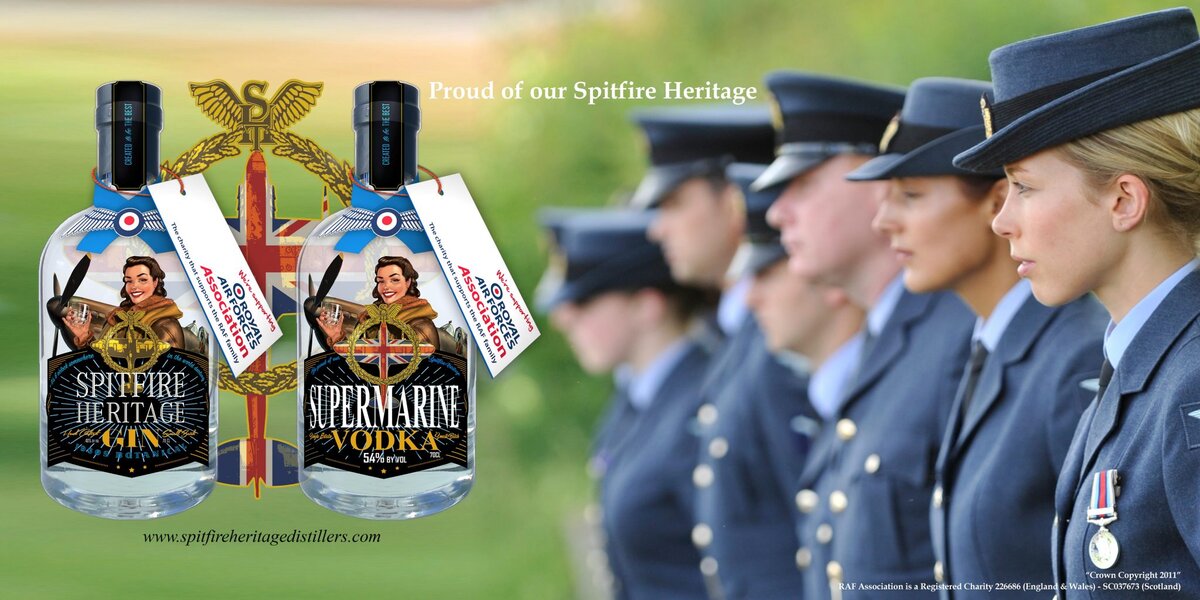 Spitfire Heritage Gin and Supermarine Vodka Partner Royal Air Forces Association for RAF Centenary Celebration
Each Especially Liveried Bottle Gifts £3.50 of Profits to Royal Air Forces Association
Spitfire Heritage Distillers today announced a partnership with the Royal Air Forces Association for the duration of the RAF's centenary celebrations – with especially liveried bottles available for pre-order now www.spitfireheritagegin.com.
Special limited edition collectable bottles of Spitfire Heritage Gin and Supermarine Vodka will proudly gift a proportion of profits to the charity that supports the RAF family.
Spitfire Heritage's flagship brand – a small batch, single estate 1930s botanical gin – pays tribute to the women of the ATA who flew wartime aircraft. Spitfire Heritage Distillers chose to work with world champion gin maker and master distiller John Walters to create a spirit that, like the Spitfire, was built to be the best.
But the company also has a deeply ingrained philosophy of giving back and doing the right thing, so was keen to sign up to a real-value relationship for the RAFA charity.
Ian Hewitt, Spitfire Heritage Distillers, said: "Wherever possible we want to do something better than best; we want, wherever possible, to do something good too."
Now Supermarine Vodka and Spitfire Heritage Gin will stand shoulder to shoulder with the RAF Association with their special bottles gifting funds and celebrating the work, dedication, professionalism and bravery that set apart the service's people and their families.
The limited edition gin and vodka will attend a number of high profile RAF centenary events together with the RAF Association from spring to autumn.  Numbered bottles will also be available to order to commemorate particular RAF Squadrons.
Pre-orders of the gin and the vodka are available at www.spitfireheritagegin.com, and to RAF Association members through the charities' channels now, with other special collectable numbered bottles available – POA.
Spitfire Heritage Gin is described by Harrods as 'one of Britain's best artisan gins.'
When someone in the RAF family needs help, the Royal Air Forces Association is there with practical assistance, expert advice and emotional support. Throughout life's challenges the charity is there for them, in person and on the phone – like a good friend should be.
Whether it's an injured airman or woman fighting to get back on their feet, a young child missing their parent away on overseas operations, or a World War II veteran needing a shoulder to lean on, the Association helps all generations of RAF personnel and their families. Spitfire Heritage Distillers is to produce a range of RAF Association branded and individually numbered bottles.  It also plans to produce a series of several batches of 100 'individually-authenticated' special numbers.  These are numbers within the series which correspond to squadron numbers which make them particularly collectable.