rpa:group Architecture and KFC's design team roll out new concept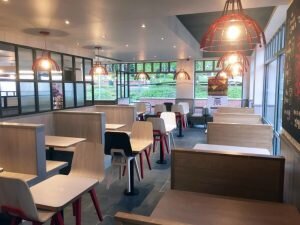 rpa:group is working alongside KFC as lead designer and contract administrators on the roll-out  of the brand's new concept across 890 stores in the UK.The new designs were created by KFC's in-house design team, in a bid to modernise the appearance of KFC restaurants and give them an "informal and stylish" feel.
The revamped locations include butchers block and timber plank kitchen tables and low-hanging copper lighting.  Design features also include exposed ceilings, textured brick-effect walls and photographs and illustrations from commissioned artists.
Mark Cherrett,  Executive Director Architecture of rpa:group, comments:  "The new design boasts a semi open-plan kitchen which means that KFC fans can see their food being made in front of them.Previous strong use of the red colour of the KFC branding, is now used more as an accent colour, appearing in features such as chair legs and graphics."
Exmouth in Devon is the latest KFC to get a make-over, as part of KFC's new concept.  In Exmouth the existing KFC restaurant has been fully updated both externally and internally, to meet the new concept's requirements.