PURE BITE LAUNCHES IN THE UK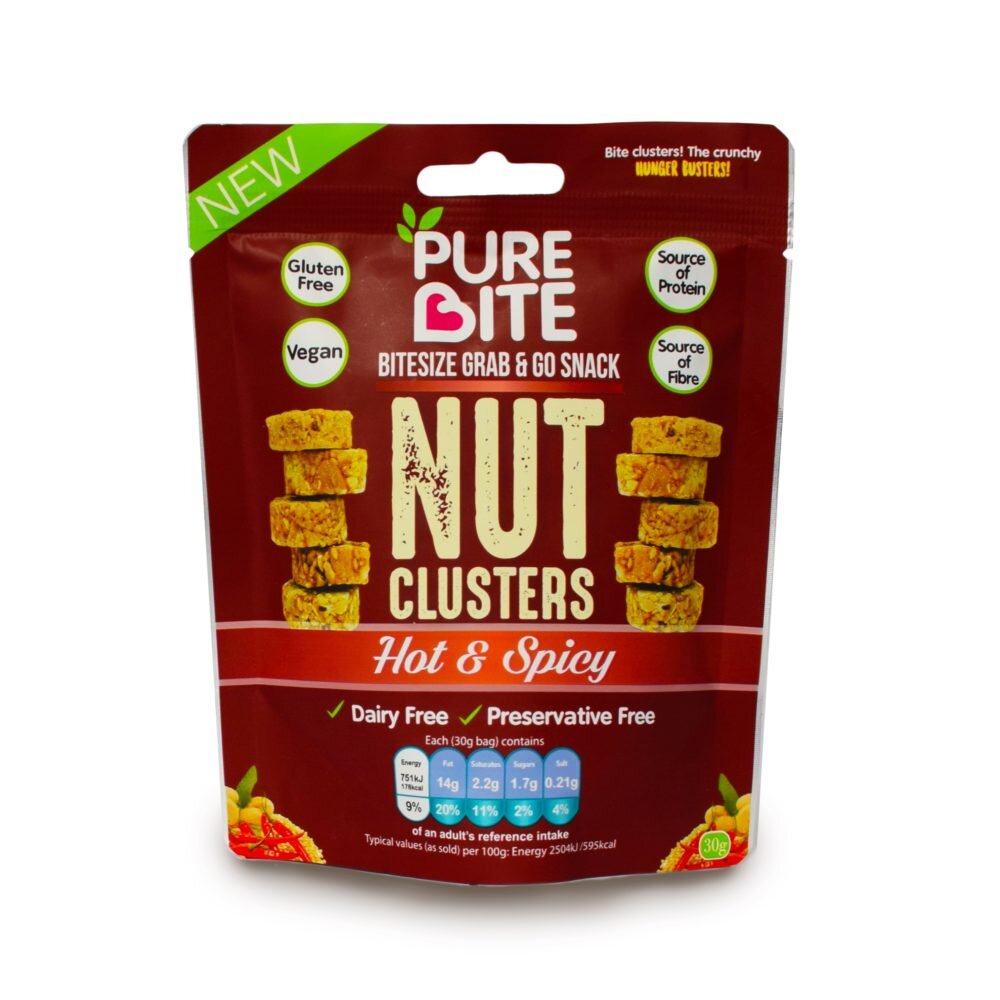 Bite UK to launch a UK first range of Rice, Coconut and Nut Clusters
NEW: Yorkshire's Bite UK is proud to announce the launch of its new range of rice, nut and coconut baked snack clusters in a UK first taking healthy snacking to a different level. The range will launch nationwide across the UK, Finland and Middle East in August 2017.

Bite UK is a young, British and hungry company founded by Jason Bull. He says; "Our mission is to create delicious free-from products for UK consumers. Our products are low in calories and suitable for people with allergies and intolerances. What I am most proud of is our ability to achieve a product of such outstanding health credentials which taste incredible – and to deliver that package at a competitive price to retailers."
Snacking categories are experiencing double digit growth with nut based snacks the highest, while grab and go snack packs have seen 26% growth accounting for 10% of the market*. There is an acute demand for nut snacks with a 23.5% increase in consumption of nut snacks in 2 years.
The Pure Bite range are dairy free, gluten free, vegan, preservative free, high fibre, high protein, low salt, low sugar and low in calories. The products sit in between two trends – healthy free from snacking and convenient food to go.
Since 2015 over one million of Bite UK's various free from snacks have been enjoyed by health conscious consumers worldwide. The development of Pure Bite is in answer to a gap in the market for delicious, bite size, attractive and convenient healthy snacking products in an impulse format. Founder, Jason Bull experienced first-hand via friends and family diagnosed as coeliac, the difficulties they were having in finding good quality and tasty gluten free product for the mass market.
Pure Bite is available in the following variants priced at £1.49 per unit:
Pure Bite Popped Rice Clusters, Blueberry and Cranberry, 20g, £1.49
Pure Bite Popped Rice Clusters, Strawberry and Gojiberry, 20g, £1.49
Pure Bite Nut Clusters, Almond, 30g, £1.49
Pure Bite Nut Clusters, Hot and Spicy, 30g, £1.49
Pure Bite Crunchy Coconut Clusters, Strawberry, 30g, £1.49
Bite UK is the innovative retail arm from the stable of Eurostar Commodities, and with access to their unrivalled global sourcing network. It provides trust of the very best quality because their track record in sourcing the finest ingredients in small supply chains to ensure quality and provenance. Pure Bite will go on sale concurrently in Europe from 28th August 2017.
For further information please contact Helen Trevorrow or Vicky Hague @ Green Row on 0794 000 9138 or email [email protected]