Sky Sports brings pubs key battles in the Premier League run-in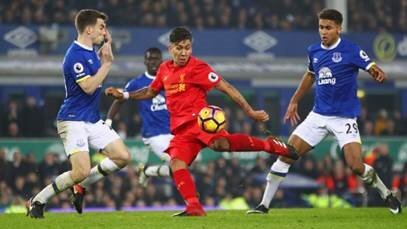 Sky Sports will be the only place to see the race for the title, the battle for the top four and the fight for survival, with three huge head-to-heads in April.
Sky Sports has already brought pubs thirteen head-to-heads between the teams currently making up the top six this season and will show another three throughout April. As the race for a top four finish intensifies Sky Sports will also be the only place to see Arsenal and Liverpool again this season.
This is set to be one of the closest run-ins at both ends of the table and Sky Sports will be there the whole way, starting with three huge games over the first weekend of April.  Liverpool and Everton meet in the Merseyside derby on Saturday lunchtime before a Super Sunday that will help pubs to keep customers in for longer by showing Arsenal against Man City, and a crunch game to avoid the drop between Swansea and Middlesbrough.
Chelsea are currently in pole position to win the league but will be fully aware of the chasing pack. They visit Old Trafford on Sunday 16 April in a game that sees Jose Mourinho up against his former club. In another top four head-to-head, pub goers can look forward to the north London derby from White Hart Lane on 30 April.
David Rey, managing director of Sky Business, said: "Our customers can look forward to an April to remember with a huge schedule of Premier League action due to unfold on Sky Sports. Pub goers will be treated to no fewer than 18 games featuring contests at both ends of the table as we head towards the season's climax. With battles like Arsenal v Manchester City, Manchester United v Chelsea and Tottenham v Arsenal lined up, landlords will be given plenty of opportunities to fill their venues across the whole month."
 Sky Sports has added 18 more Premier League matches in April and will show 90% of the Premier League's teams in a massive month of live action. Goals and highlights from these and all 380 Premier League matches can be enjoyed by anyone using the Sky Sports Football Score Centre app in a Sky Sports WiFi venue.
Sky Sports Premier League schedule
 April
 Liverpool                             v                             Everton                                Sat 1 April                           12.30pm
Swansea City                    v                              Middlesbrough                  Sun 2 April                         1.30pm
Arsenal                                v                              Manchester City                Sun 2 April                        4.00pm
Tottenham Hotspur      v                              Watford                               Sat 8 April                         12.30pm*
Sunderland                        v                             Manchester United         Sun 9 April                        1.30pm
Everton                               v                              Leicester City                    Sun 9 April                         4.00pm*
Crystal Palace                  v                              Arsenal                                 Mon 10 April                      8.00pm
Tottenham Hotspur      v                             Bournemouth                    Sat 15 April                        12.30pm
West Bromwich Albion  v                             Liverpool                              Sun 16 April                       1.30pm
Manchester United         v                            Chelsea                                Sun 16 April                       4.00pm
Middlesbrough                  v                             Arsenal                                 Mon 17 April                      8.00pm**
Manchester City               v                             West Bromwich Albion Sat 22 April                        12.30pm***
Leicester City                   v                             Tottenham Hotspur      Sun 23 April                       12.00pm***
Chelsea                               v                             Southampton                   Sun 23 April                       2.15pm***
Burnley                                v                              Manchester United       Sun 23 April                        2.15pm***
Liverpool                             v                              Crystal Palace                  Sun 23 April                       4.30pm
Everton                               v                              Chelsea                               Sun 30 April                       2.05pm
Tottenham Hotspur      v                              Arsenal                                Sun 30 April                       4.30pm**
May
Watford                              v                              Liverpool                             Mon 1 May                           8.00pm
*Subject to Leicester's involvement in UEFA Champions League – Everton v Leicester City could move to Sat 8 April, 12.30pm with Tottenham Hotspur v Watford moving to Sun 9 April 4pm
** Subject to Arsenal's involvement in UEFA Champions League
*** Subject to FA Cup Semi Final
For further information, please contact:
Sally Douglas

External Communications Manager

Sky Business