Budweiser invites nation to raise a free beer to unforgettable Emirates FA Cup Fifth Round as incredible giant slayings make football history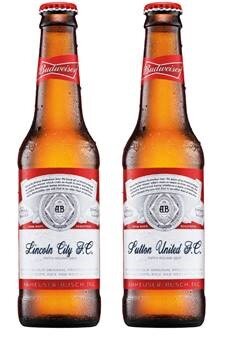 Budweiser, official beer of The Emirates FA Cup, is celebrating an epic moment in football history, as two Non-League teams reach the Fifth Round for the first time since the English Football League began in 1888. To mark this momentous occasion, Budweiser will be toasting the nation's football fans by giving them a free beer to celebrate.
The Fourth Round giant slayings by Lincoln City and Sutton United shocked the nation and marked the first time in 129 years that two Non-League sides have reached this stage of the competition.
To commemorate this historical football moment, Budweiser is inviting the nation to get together and toast the Fifth Round with their first Bud on the house. Those who are 18 years of age and over can watch these historic fixtures play out in Budweiser's partner pubs and bars, where they will receive one free Budweiser over the course of the Fifth Round weekend – starting with Lincoln City's kick off at 12:30 on Saturday 18th February, through to Sutton United's showdown with Arsenal on the evening of Monday 20th. To take part in the celebration, 18+ fans should do the following:
Visit budweiser.co.uk/celebratewithbud which opens at 12:00 on 17 February, where consumers can submit their details to claim their free Budweiser voucher
Voucher will be sent directly to them as an email, which they can show on their smart phone to redeem a free Budweiser at the following Mitchells & Butlers pubs: Sizzling Pubs, Sizzling Pub & Grills and O'Neills, plus selected other pubs
The voucher can be redeemed at these outlets from 12:00 on Saturday 18 February up until midnight on Monday 20 February
To further mark this year's unforgettable Emirates FA Cup Fifth Round, Budweiser will also be creating limited edition packaging for its 330ml bottles. A limited batch of Bud bottles will be redesigned to hero Sutton United and Lincoln City, with their team names taking centre stage on each bottle. The limited-edition bottles will be delivered to each of the teams to celebrate their historic achievements in this year's Emirates FA Cup, and just in time for them to raise a special Budweiser to the Fifth Round.
Budweiser's support for the underdogs in this year's The Emirates FA Cup kicked off earlier in January with an epic 10,000 plus helicopter beer drop to Plymouth Argyle, to celebrate the team's Third Round achievement and their fans' who never stopped believing.
Aina Fuller, Senior Brand Manager, Budweiser UK, says, "As official beer of The Emirates FA Cup, we pledged to celebrate this season's epic moments and underdog achievements in true Budweiser style. Budweiser have already applauded the exciting upset from Plymouth Argyle against Liverpool, and are now marking a first in English Football League history. We're all for breaking records and achieving the unachievable, and this year's Emirates FA Cup will not be forgotten. When the underdogs make football history, this is the beer we'll drink!"
 Lucy Roberts-Hartley, The Emirates FA Cup Senior Brand Manager says: "This season's Emirates FA Cup competition has made history with two Non-League teams through to the Fifth Round for the very first time. We are delighted that our partner Budweiser has chosen to celebrate the continued drama and excitement of these matches with football fans up and down the country and look forward to watching the competition progress."