Hungry Horse ready for UEFA Euros 2016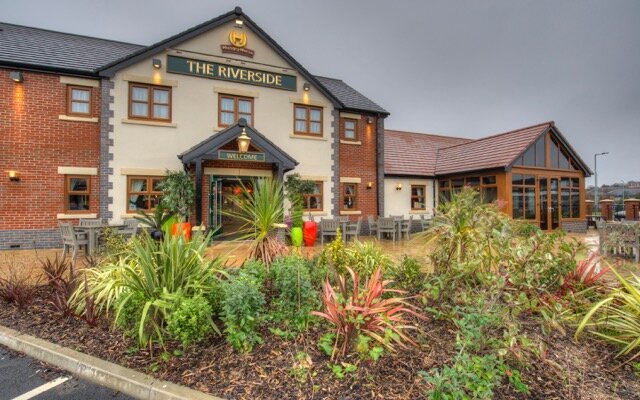 Q1 2016, Hungry Horse pub and family value restaurant chain, operating more than two hundred family value pubs in the UK, recently chose Bolton based AV integration company TVC Technology Solutions to provide a complete audio visual solution for its Rotherham Riverside public house in readiness for the UEFA Euro 2016 football tournament in France, starting in the Summer of 2016.
To encourage patrons to stay longer and enjoy the summer experience, Hungry Horse has invested in a number of large LED screen solutions alongside a distributed audio system to allow zonal control of the audio and visual systems, including the provision of screens and audio in dining booths and outside in the garden/patio areas. 
TVC Technology Solutions, a family business established in the mid 90's by Jim Brown and his two sons Matthew and Daniel is part of the TVD Group. Growing rapidly and with the agility to deliver audio visual solutions in a number of business sectors including hospitality, healthcare, betting, gaming, retail and sports stadia, TVC Technology Solutions has a long established relationship with Greene King, operators of the Hungry Horse chain.
At the Riverside venue TVC Technology Solutions installed two Sony Video projectors along with a number of Samsung LED screens, all allowing SKY sports events to be seen and heard easily. For the audio solution TVC Technology Solutions opted for a number of Cloud mixer amplifiers, amplifiers and loudspeaker products.
Chris Whitlock, Technical Director for TVC Technology Solutions commented, "Hungry Horse requires a solution that is flexible enough to allow audio to be channelled into the zones where it is required but with a simple enough user interface to allow staff at the venue to make changes without being audio experts. We used the Cloud solution because of a number of factors including reliability, usability and price".
"We also chose to use the new Cloud ceiling speakers in this project", added Whitlock "we sound-tested them and really liked the performance, the low-profile uniform appearance and competitive pricing".
Simon Curtis, Managing Director for Cloud Electronics added, "The Cloud products sit nicely alongside the Hungry Horse ethos of providing reliability and value. Whilst we have digital products in our range and in further product development, we firmly hold the belief user-friendly, reliable, analogue audio solutions provide sensible, cost-effective solutions for a larger number of projects".
"I am particularly pleased Hungry Horse chose a Cloud solution in this location, just a few miles from our HQ in Sheffield, where products are researched, designed, built and 100% tested. If England perform well in the forthcoming Euro 2016 tournament you might just find us nipping out to catch a few games at the Riverside". 
Equipment List:
15 x Cloud CS-C6W In-Ceiling Speaker
8 x Cloud CS-C8W In-Ceiling Speaker
2 x Cloud CS-CSUB8W In-Ceiling Sub-Bass Speaker
1 x Cloud 36/50 Mixer Amplifier
1 x Cloud 46/120 4-Zone Mixer Amplifier
1 x Cloud VTX4120 4-Channel Amplifier
6 x Cloud RSL-6 Remote Volume/Selection Control Plate
1 x Trantec S4.4H Radio Microphone System
1 x Sony VPL-VW300ES Projector
1 x Sony VPL-SW630C Projector
1 x Samsung Blu-Ray player
1 x Samsung HG55ED670 55" LED Screen
4 x Samsung HG40ED470 40" LED Screen
1 x Samsung HG32ED470 32" LED Screen
6 x Samsung LT19C300 19" Screen
2 x APART MASK4T Speaker
About
Cloud Electronics, UK manufactures high-quality commercial audio products including Zone-Mixers, Multi-Channel Amplifiers, Paging Microphones, Headphone Audio Distribution and Loudspeaker products for audio applications in Retail, Hospitality, Education, Commercial and Leisure markets.
Cloud Electronics USA has been operating since 2012, located in Park City, Utah providing sales, system design, stock distribution and after sales support.
All Cloud products carry a Commercial 5-Year warranty.
For further information visit www.cloud.co.uk