WHERE DO ALL THE SEXY PLATES COME FROM?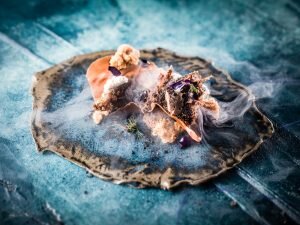 Where do all the sexy plates come from? One place, the plate cave beneath Galvin Bistrot De Luxe, or also known as, The Goodfellows Showroom.
Located on Baker Street, London, chefs also call this place 'The Aladdin's Cave of Ideas'. It is a place where chefs, designers and food stylists alike can get really creative. It is also the perfect place for Goodfellows to launch their new brochure; Portfolio no.3. Full of great new products and amazing food photography by some of the country's best and leading chefs, this will be thier biggest launch yet.
Goodfellows are hosting two fabulous events on Monday 29th and Tuesday 1st March, between 3.30pm – 7.00pm, where they will be unveiling their brand new Portfolio. Guests can also enjoy a champagne reception (sponsored by Dappier) and delicious bowl food by Tom Duffill (Head Chef, Galvin Bistrot De Luxe). Also, those wishing to continue the party, can enjoy a special set price menu upstairs, at Galvin Bistrot De Luxe. You must get in touch before the event to book a table, to avoid disappointment.
"These two launch events are all about celebrating what is an exclusive collaboration between us and our customers, who play a big part in Portfolio 3. To see exactly what I mean, you must come to the events!" Said Valda Goodfellow, Managing Director of Goodfellows.
So what can you expect from the mysterious Portfolio 3? "It's sexier, trendier and definitely not what you are expecting," said Valda.
Copies of Portfolio no.3 will be mailed out to G & G customers from Monday 7th March, so if you want to be the first to get your hands on a copy, join Goodfellows at one of their events.
You can register your interest through Eventbrite:
Click here to book Monday 29th February
Click here to book Tuesday 1st March
If you would like further details please call 0844 334 5232 or email [email protected].
Both events will be taking place at The Goodfellows Showroom:  66 Baker Street (under Galvin Bistrot De Luxe), access from Broadstone Place Entrance, London, W1U 7EP.
Don't miss out, register your interest today and come and celebrate this exciting launch with Goodfellows.