SEVEN YOUNG BRITISH CHEFS EMBARK ON CULINARY TOUR TO MASTER THE ART OF JAPANESE COOKING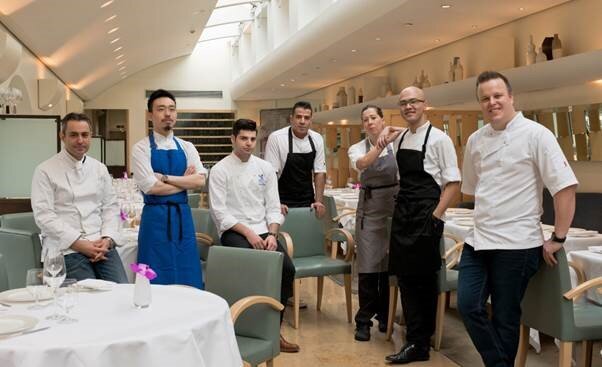 Today, seven young British chefs landed in Japan to commence an exclusive eight-day culinary trip, having been named finalists in the Seven Samurai Chefs competition.
Hosted in partnership between Japan's only 5-star airline, ANA, and the British Hospitality Association (BHA), the challenge set out to discover the UK's best up-and-coming chefs. Each of the seven finalists demonstrated creative and culinary finesse in their entries, capturing the attention of the judging panel, including Nobu's Head Chef, Hideki Maeda, and well-known Japanese chef Yuki Gomi of Yuki's Kitchen.
As part of their prize, the seven finalists now have the opportunity to be immersed into Japanese culture, both traditional and new, and master the cooking techniques of award-winning chefs, including Sadakatsu Matsuura. The aim of the competition is to encourage more chefs to incorporate new techniques and Japanese ingredients into menus across the UK.
The trip's itinerary has been designed to educate and inspire the chefs by showcasing the best of Japan's famous cuisine. The chefs will experience the unique production methods behind popular local delicacies, such as soy sauce. They will also visit some of the world's most-celebrated food markets, as well as renowned local restaurants in Tokyo, Osaka, Toba and Kyoto.
Following the tour, one Samurai Chef will be awarded the opportunity to collaborate with ANA's own award-winning catering team to create a light meal for its Winter 2016 Business Class menu on ANA's London – Tokyo route.
David Loewi, owner of the D&D London, Chairman of The Restaurant Association and the judging panel commented: "The industry is always on the lookout for new talent and we are delighted to offer seven rising stars the opportunity to travel to Japan and be inspired by the diverse local cuisine the country has to offer, while discovering new ingredients and techniques that they can put into practice upon their return to the UK."
 Yuki Gomi from Yuki's Kitchen said: "It was really exciting to see the variety and range of talents from the chefs, which I am sure will continue to evolve during their adventures and culinary experiences in Japan. I can't wait to hear about their experiences and sample their new Japanese inspired dishes."
Mr. Yutaka Ito, ANA Senior Vice President, EMEA and General Manager, London said: "We have been very impressed by the quality of entries we received and the enthusiasm from all of the chefs. Inspiration is the key to innovation, which is the basis of ANA's brand ethos, and why we are looking forward to seeing how the culinary tour of Japan inspires the Seven Samurai finalists."
Ufi Ibrahim, Chief Executive of the British Hospitality Association said: "We're committed to nurturing and growing the best of British culinary talent. This competition is part of that commitment and offers a unique chance for up-and-coming chefs to expand their knowledge and skills in one of the world's greatest culinary arts.
"The UK has a growing affinity for Japan and Japanese culture and we're delighted to collaborate with ANA, whose award-winning catering team has established a reputation for some of the best in-flight dining around."
The winning Seven Samurai Chefs are:
Craig Floate, Nottingham – Previously cheffing for the British sailing team, supporting the team throughout the London 2012 Olympic and Paralympic Games, he now works at Utoxetter Race Course and runs a private dining business.
Spencer Metzger, London – Sous Chef at the celebrated Ritz Hotel in London, Spencer also hosts his own seasonal pop-up restaurant, 'A Summer-Inspired Menu', which has to date sold-out. He won The Royal Academy of Culinary Arts award for Young Chef of The Year 2014.
Cheung-On Shum 'Jason', London – Jason holds previous experience with Marriott Hotels, winning their Europe-wide 'Rising Star' award. He's now Chef de Partie at the popular OXO Tower in London where he has designed a number of popular dishes currently availble on their menu.
Kelvin Tan, Ireland – Kelvin's career is inspired by his time spent in his parents' restaurant. He has worked at The Savoy and now holds a position at Dysart Petersham in Richmond, where dishes have an oriental theme.
Hamza Aidouni, London – Experienced pastry chef Hamza Aidouni owned a boulangerie and patisserie in France before working in the pastry sections at Harrods, The Sanderson and St. Martins Lane. He is now Head Pastry Chef at Belgraves Hotel, Kensington, alongside TV chef, Sophie Michelle.
Lizzy (Elizabeth) Stables, London – Lizzy is Head Chef at the award-winning Modern Pantry restaurant in Clerkenwell where she specialises in vegan dishes. With nearly 10 years of experiences  Lizzy has worked in a variety of restaurants including The Square, Alistair Little and Mishkin at Covent Garden.
Piero Leone, London – Piero is Head Chef for Sauterelle at Royal Exchange. He has cheffed for high-profile events, such as The Pavarotti & Friends Charity Concert, where guests included Luciano Pavarotti and the Dalai Lama, to name a few.
 The seven winners will be in Japan until 24th January. You can follow their journey on Twitter using the hashtag #7SamuraiChefs.
Official sponsors of Seven Samurai Chef Tour are ANA, BHA, Harro Foods, Mie Prefecture, Miki Travel, Prince Hotels and Resorts and Toba City.