Famous Cockermouth restaurant launches unique 'signature dish'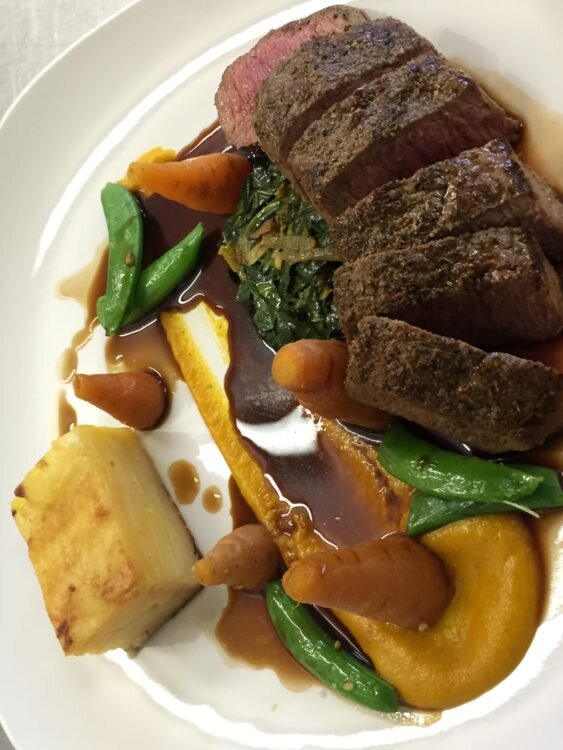 Famous Cockermouth based restaurant, 'The Honest Lawyer' is attracting further custom following the launch of a unique signature dish.  Owner and head chef, George Cherian, has created a dish that originates from Kerala, the most southern state of India, his home town.  The new dish – Kerala spiced lamb (fennel and pepper crusted lamb loin served with coconut and turmeric cabbage, spicy carrot purée, lamb mince tart, cumin roasted potatoes and cauliflower and cardamom jus) has only just been unveiled, but has already been given a firm 'thumbs up' from both locals and visitors.
The historic restaurant, which originally served as the court house in the town, overlooks the River Cocker and possesses one of the most enviable positions in Cockermouth.  With George taking ownership of the venue only last year, it's his clear belief that offering something both different and personal, will stand him out from the crowd.
"Traditionally, the Honest Lawyer has been well known for offering good quality and well-priced European cuisine and of course, we will still be offering this to our customers." he said.  "But, I also wanted to put my own stamp on the restaurant.  A dish which is very special to me is my way of doing that and it's a great way to engage with my customers on a personal level.  Doing something very different is always risky, but we have already had a tremendous response to the new dish and I'm absolutely delighted."
For further information about 'The Honest Lawyer', or to book, please call 01900 824888, or visit: www.honestlawyerrestaurant.co.uk