Smeg Stand Mixers Add 50s Style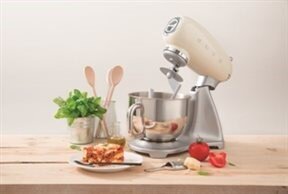 Smeg Foodservice Solutions has added the 1950s inspired design Stand Mixer to the range of equipment it offers to UK catering professionals.
"The SMF01 Stand Mixer is ideal for smaller operators and those who want to add a touch of classic retro design to a theatre kitchen set-up. It features an 800W direct drive motor for powerful mixing action that's controlled by ten speeds.
"The stand mixer has a die cast aluminium powder coated body, and of course the mixer head comes in a range of bold and beautiful colours," comments Phil Coulstock, commercial channel director for Smeg UK.
For more information call: 0844 5574355 or email: [email protected]
About Smeg
Smeg was founded by Vittorio Bertazzoni Snr in 1948 when the company specialised in enamelling and metal working
The name, SMEG, is an acronym of Smalterie Metallurgiche Emiliane Guastalla, which roughly translates as smelting and metal enamelling plant in Guastalla, Emilia, Italy
Well known for its iconic domestic appliance range, Smeg also manufactures professional foodservice equipment for the catering and hospitality industries
Significant investment in R&D allows new technologies to be shared between domestic and professional ranges to provide measurable specification and performance benefits
Smeg Foodservice Solutions offer a wide range of well specified professional glass and dishwashers, semi-professional dishwashers, ice machines, mini bar refrigerators, all with Smeg's hallmark design values and branding
The company also supplies an established wide range of commercial convection/bake off ovens and cooking equipment through exclusive UK distributor and long term partner, RH Hall.
For Smeg's responsive website please visit smegfoodservice.co.uk
For trade enquiries please contact 0844 5731370 or email

[email protected]

The UK head office was established in 1989 and has been supplying premium domestic appliances throughout the UK for more than 25 years.
Smeg UK's showroom and head office is based in Abingdon, Oxfordshire, and from here, supply a range of more than 800 products across the UK
From its own logistics fleet and 120,000 sq ft warehousing facility and dedicated support organisation Smeg Service, Smeg is able to provide excellent support for customers nationwide in both sales and after sales service.