Andrew Tucker says "Thank you" ending Sanremo UK's 6 years of UKBC sponsorship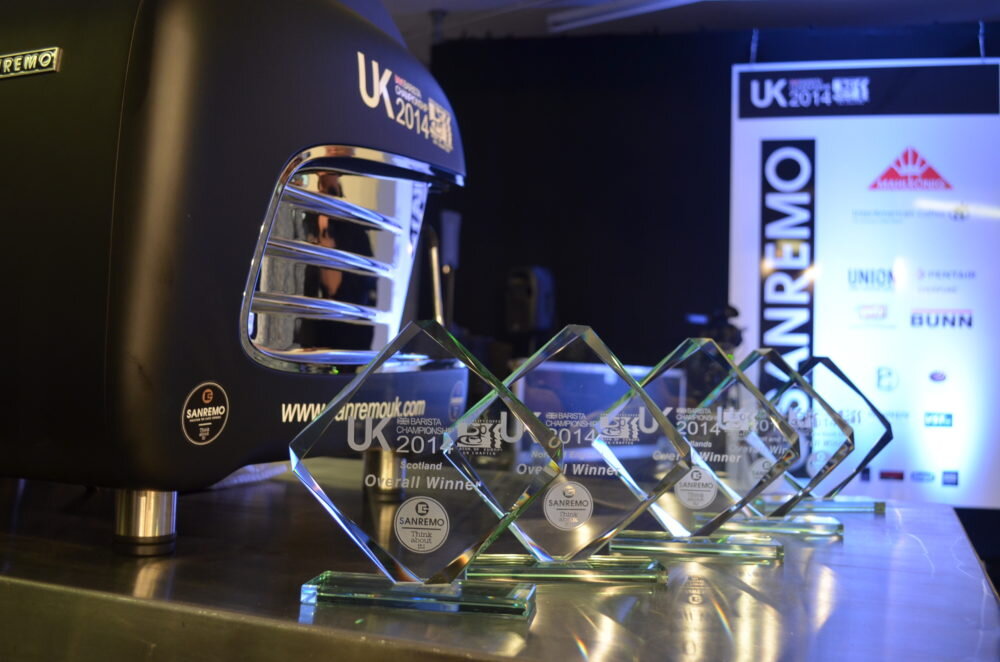 As our last season as sponsor of the UK barista championships comes to a close, I want to say a huge thank you to everybody who has had a hand in the competitions over the past 6 years.
We have had so much support and positive feedback from baristas, judges and other sponsors about our team and our machines, it has been a truly fantastic period for us!
The competition has changed so much during this time.  It has been a privilege to have been able as a team to play our part in that.
The Italian connection
Of course, we owe a tremendous amount to Sanremo in Italy.  What a fantastic company to represent!  Smaller and younger than most, they are so focussed on doing things better that it is infectious, and as John Gordon said, 'if half the population had just 10% of Carlo de Sordi's passion, the world would be a much better place'.
Thank you Sanremo Italy!
World beating Baristas
We have also been so lucky to have many of the world's best baristas in the UK competition.  The guys who reach the finals are always inspirational and amazing to be around.  But we shouldn't underestimate the power of the wave that is driving them.  New Baristas pushing standards ever higher are such an important part of the competition.
Remember, what you see these guys do in competition will become common practice in the months and years ahead.
We as a team give a huge applaud to every one of them who has competed over the past 6 years.  The Baristas, we love you, thank you!
What a team 
As this is our farewell to the UK barista championship, I want to say huge thank you to the fantastic team I am so lucky to have behind me.
We are a small company so it is not just our road crew who carry, set up and run the events, but the people holding together a busy fort, running with half of the team out of the business working the competitions.
So I do say a big thank you to each and every one of them!
The big man
Although we have a great team here there is one person in particular who has worked alongside me for 12 years who has been a rock to me and the UKBC.  I don't think there is one barista in the last 6 years who hasn't felt a depth of gratitude for the help, support and guidance he has given in the competition.
So from me personally and I am sure I speak of behalf of almost all competitors, Thank you David Wilson for everything you have done and given to the UKBC over the last 6 years.
UK Barista Champion
Our whole team all say huge congratulations to Maxwell Colonna-Dashwood for winning the UKBC 2014 and wish him success in World Barista Championship in Rimini.  As well as being an amazing Barista, the UK coffee industry couldn't ask for a better national and international Ambassador.
Looking ahead
We are proud to pass the baton on to whoever takes on the sponsorship next and really hope they continue to enhance the competition further and find the pride in being associated with it, that we at Sanremo have.
Thank you once again, to everyone who has been involved in the UKBC in 2009, 2010, 2011, 2012, 2013 and 2014.
Andrew Tucker