Fantastic Taste of Korea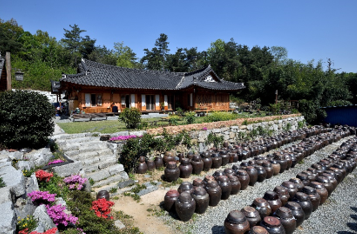 Welcome !!
Healthy food lovers, Fermentation manics, Vegetarians & Vegans,
Premium foods seekers, Trendy & unique foods explorers,
Global food experience finders, Asian food-holics…
"The first and biggest Korean Pavilion in London for food fair"
Interest in Korean culture is now at its peak in the UK, with the opening of an exhibition on Hallyu at the Victoria & Albert Museum in the UK in September this year.
With the heat on Korean cuisine, exports of Korean food products from Korea to the UK are growing steadily: 8% per annum, from USD 47 million in 2017 to USD 77 million in 2021, expected to exceed USD 80 million this year. As the demand of the UK market on Korean food products increases, we will be present for the first time at SPECIALTY FINE FOOD FAIR 2022 to introduce 12 Korean food companies, with their healthy and trendy products, as well as several Korean specialties.
In the Special promotion zone at Korean pavilion, we will present traditional fermented foods such as Kimchi and Jang(fermented condiments) as well as vegan/vegetarian recipes and food products. Moreover, a Korean chef will be waiting for you to show and prepare tasting recipes using these ingredients.
SPECIALTY FINE FOOD FAIR 2022 (SFFF22) www.specialityandfinefoodfairs.co.uk
DATE: 5th, 6th September (09:30-18:00) at Olympia London
Address: Hammersmith Road, Kensington London, W14 8UX
"Korean foods for the veggies"
Korean cuisine can give a huge diversity to the diet of vegerians and vegans. First, it uses a lot of vegetables, seaweed, mushrooms and dubu(tofu). And the dishes are seasoned not by monotonous salt but by savoury Jang.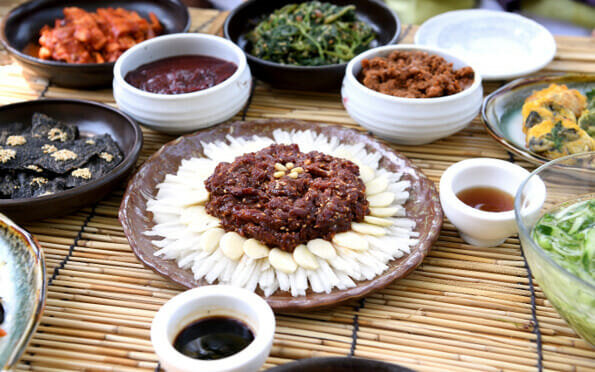 Jang is the secret of Korean cuisine. Boiled soybeans are fermented for the first time then soaked in brine for second fermentation. After several months of maturing, the liquid part becomes the famous soy sauce, Ganjang, and the remaining paste Doenjang. Gochujang, source of the typical hot spicy flavor in Korean cuisine, is made of fermented soybean powder, grain flour and hot red chili powder.
Kimchi, fermented vegetables, can provide also dynamics on your diet. Fermentation was the only method of storing vegetables during severe winter in Korea. But now, Kimchi became THE soul food of the Koreans and a good side dish for the veggies. The tangy flavour of Kimchi, which comes from naturally fermented vegetables, stimulates your appetite and its probiotics and fiber help to maintain healthy gut. In Korea, there are several hundreds of Kimchi, including varieties not using red hot chili.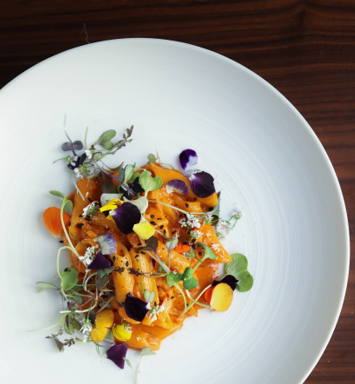 "Korean Foods Show: Fusion style fermentation & vegetarian oriented recipe tasting by K-Chef"
Menu01. Kimchi ragu spaghetti / Menu02. Cauliflower bibimbab
Time: 12:00pm / 14:00 / 16:00 (Korea pavilion ST No. 1310)
Chef (Pepe Park / MK Kim by YORI UK)
Executive Chef of YORI UK
(Korean premium BBQ dining brand which has 10 branches in the UK)
"Meet 12 brilliant Korean F&B companies"
It is great opportunity to see various aspects of the Korean food industry, from traditional foods to innovative products.
01. Tulip international (No.1320a) Aloe drink https://www.tulipint.com/
02. ATO (Ne.1320b) Spirits www.atokorea.co.uk
03. Kimnori (No.1302c) Korean seaweed
04. Sooo Good (No.1320d) Shrimp snack
05. Korea natural food (No.1320e) Honey citron tea http://dooraeone.com/
06. JL bridge (No.1320f) Kimchi jam http://www.k-jam.com/
07. Fresh Bell (No.1330a) PAPA ZOO's http://www.thefreshbell.com/default/
08. Young Poong (No.1330b) Pink rocket topokki http://www.ypfoods.co.kr/
09. Kkoh shaem food (No.1330c) Honey citron tea http://www.ksfs.co.kr/shop/
10. Cosmogy (No.1330d) Traditional makguli
11. Pan Asia (No.1330e) K foods wholesaler in the UK 12. Histrade (No.1330f) Flavour Soju http://www.joasoju.com/
12. Histrade (No.1330f) Flavour Soju http://www.joasoju.com/