DEXTER MOREN ASSOCIATES COMPLETES HYATT PLACE HEATHROW AIRPORT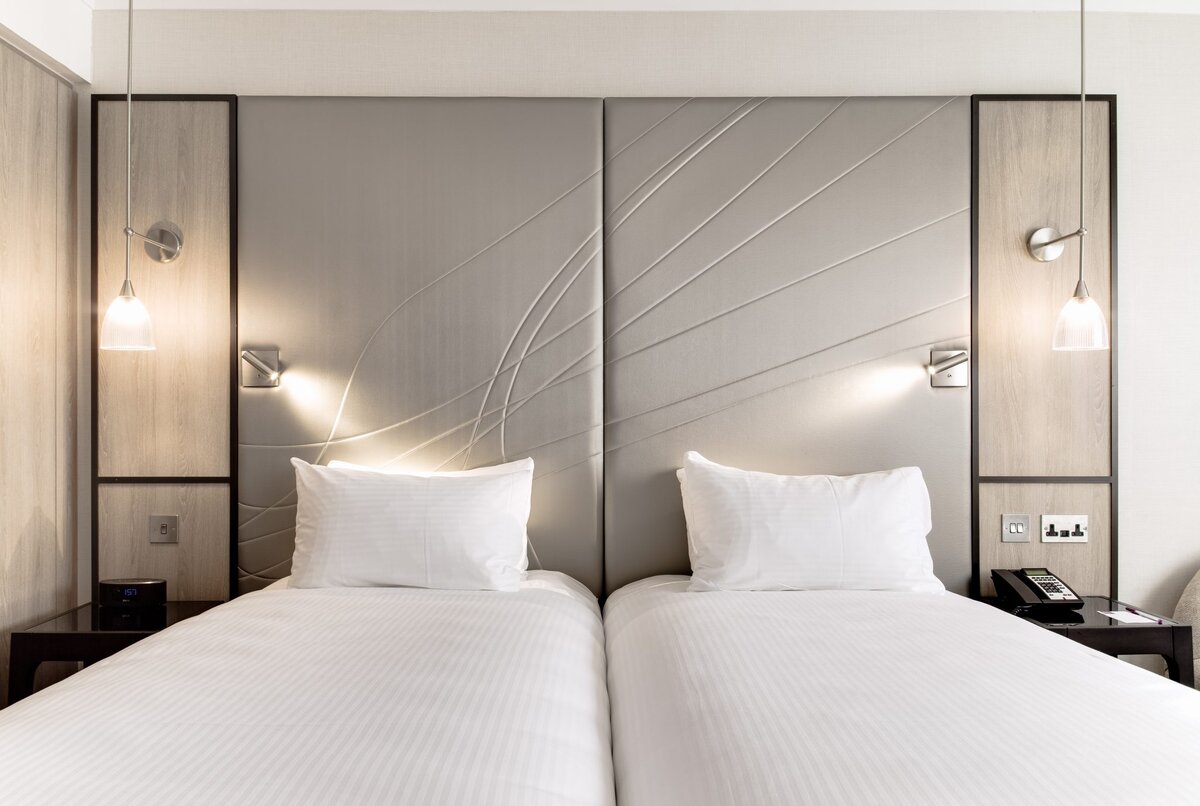 Award-winning hotel architects and interior designers Dexter Moren Associates has overseen the completion of the latest addition to the successful Hyatt Place brand of up-scale select service hotels. Designed and refurbished to the exacting standards expected by its 24/7 multi-tasking clientele, Hyatt Place Heathrow Airport balances work and play in an individual, high-tech and relaxed environment.
In addition to refurbishing 357 guestrooms, Dexter Moren Associates (DMA) has re-planned and redesigned the public spaces to include The Gallery – the hub of the public area – which contains the reception, a relaxed bar and a "grab & go", plus a separate all-day dining space and extensive meeting facilities.
David Harte, Senior Interior Designer, Dexter Moren Associates: "DMA has a long-standing philosophy of designing projects that speak to and about their individual locations. We referenced Heathrow's indisputable connection with aviation in the design, but without being trite or obtrusive."
Hand-blown frosted glass light fittings hang above the reception desk which is backed by a deep blue bespoke carved art panel inspired by the air flow created by propellers. The propeller influence is carried through into the angled fins that obscure the perspective and make a delicate screen between the reception and lounge/bar area.
The calm elegance of the reception area is set off by the more domestic and relaxed atmosphere of the lounge/bar where cylindrical forms are refined and detailed and the blade motif is carried through in the pattern of the ombre carpet.
The dining area presents a tranquil and unfussy feeling. There are glimpses of a hot air balloon, gliding delicately across a summer's sky, its envelope reflected in the three bold circular mirrors, its ribbing in the stitching of the banquettes and its basket woven into the wall panelling.
In the meeting spaces, elements of the lost age of bi-planes mix with the latest technology. Pale walls are contrasted with deep blue lacquer panels and dark timber joinery where strong diagonals interconnect like the cross-bracing of Wilbur and Orville's Wright Flyer.
Neil Andrew, Associate Director, Dexter Moren Associates: "This is an excellent example of DMA's vision for a new breed of airport hotel.  The design moves beyond a mere convenient place to sleep before catching a flight. By bringing out the neighbourhood story and history, the airport hotel can offer a lucrative new opportunity, becoming a destination, rather than just being en-route to somewhere interesting."
This slideshow requires JavaScript.