Celebrate International Women's Day with Bermondsey Square Hotel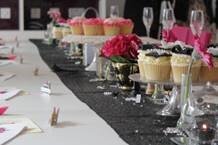 In celebration of International Women's Day, Bermondsey Square Hotel will be hosting an Afternoon of Conversation and Women's Empowerment Afternoon Tea with life coach Wajeeha Amin to #PressforProgress on Wednesday 7th March 2018. Designed to build courage and inner strength, this exclusive afternoon tea event will inspire women to regain control, conquer fears and gain a deeper understanding of themselves.
Empowering Women
International Women's Day is a day dedicated to celebrating the social, economic, cultural and political achievements of women worldwide. This year's campaign theme is #PressforProgress and following the strong global activist movements including #MeToo and #TimesUp, the momentum for women's equality has never been stronger.
Inspired by this, Bermondsey Square Hotel created the Women's Empowerment Afternoon Tea with the aim of encouraging self-confidence and re-discovering one's inner strength. Hosted by Wajeeha Amin, the Afternoon of Conversation will aim to bring women on a journey of self-discovery, personal investment and empowerment. In a safe and welcoming space, incredible women will come together to learn, grow and uplift each other.
Wajeeha Amin
Wajeeha Amin is a relationship and life coach who has always had a strong passion to assist others with taking their relationships and life to a higher level. By offering support, guidance and insight, Wajeeha encourages individuals to take charge, be in control and to reach their unlimited potential.
Her mission is to help individuals overcome obstacles, step forward to new opportunities and to feel better about themselves from the inside out. Wajeeha works to equip individuals with the tools to strengthen love and care in all their relationships and to help them reach their ultimate potential. She has been described as an 'Ambassador for Women of the Future'.
"Taking the time to sit down and converse openly in a safe space is one of the simplest ways in which to build self-confidence and to feel empowered," comments Wajeeha Amin. "It teaches us to become stronger and more confident, whilst simultaneously finding inner peace. There's no better way to banish feelings of overwhelm, work towards new goals and find new confidence than by joining with other women who are on the same journey of finding positivity."                                                 
Women's Empowerment Afternoon Tea
The Women's Empowerment Afternoon Tea has been tailor-made and will run from 4pm–7pm on Wednesday 7th March 2018. The afternoon will focus on different empowering themes that attendees will be able to take home and apply to everyday life.
The Women's Empowerment Afternoon will feature:
A welcome talk with Wajeeha
Afternoon of conversation, sharing stories, learning and laughter
Handbook and empowering lessons to take home
Afternoon Tea including fingers sandwiches, scones and cakes, tea and coffee
Special Women's Day Cupcakes
Gift Bag to take home
The cost of the Women's Empowerment Afternoon Tea is £30 per person. Advance bookings only here.
For more information on Bermondsey Square Hotel please visit www.bermondseysquarehotel.co.uk