Commercial Kitchen unveils its initial exhibitor list for 2017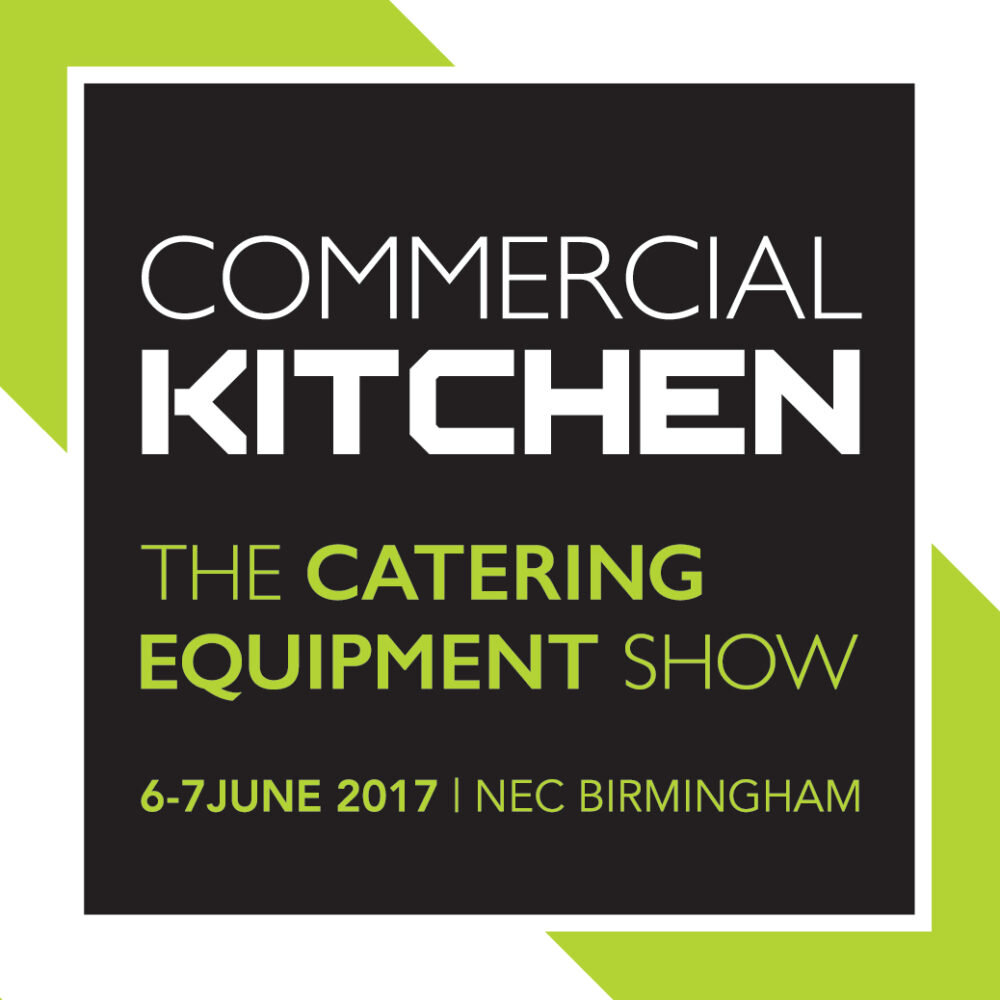 Commercial Kitchen has released an initial exhibitor list for its 2017 event.  The UK's only dedicated trade event for the entire commercial kitchen industry will return to the NEC Birmingham on 6-7 June, with 100 exhibiting companies showcasing the complete range of innovative equipment, devices and services required to run, refurbish or build a commercial kitchen.
"The enthusiastic reception for the launch of Commercial Kitchen last year proved that there was a substantial demand across the foodservice and catering sector for one focused event that brought the whole dynamic catering equipment market together," says group event director Chris Brazier.
"The kitchen is one of the most important investments any operator has to make, and Commercial Kitchen is the most comprehensive trade show of its kind, in this country.  This year's senior equipment buyers can look forward to our most exciting line-up yet.  They'll enjoy opportunities to experience first-hand, ground breaking new products and services from leading industry innovators.  Many of which won't be exhibiting together at any other event in the UK this year.
"Being able to compare what's on offer in the market from the best brands in one visit, and get advice and inspiration to ensure you make the best decisions for your business, whatever your size or need, is what makes Commercial Kitchen such an invaluable experience to its visitors.  It's also what makes it such a unique proposition for its exhibitors," he says.
Choosing to exhibit at Commercial Kitchen was a 'no-brainer', according to Carpigiani UK's sales director Scott Duncan.  For them it's an unmissable opportunity to reach the types of visitors that the show attracts.
"The feedback we received from speaking with other exhibitors, who attended the launch edition in 2016, was extremely positive.  Likewise, at various networking events and other trade shows, I was hearing great things about Commercial Kitchen!  Other sales directors working for equipment manufacturers were raving about the show and said it was not to be missed due to the quality of its visitors.  To get our equipment in-front of some of the industry's key buyers is a no-brainer," says Duncan.
Echoing the sentiments of many of their co-exhibitors in 2016, Unox UK's Kate Brooman says: "Commercial Kitchen is exactly the kind of show our industry needed.  With the focus being purely on catering equipment it attracted high quality visitors and we found it to be extremely successful.  This year we are looking forward to more of the same with high quality visitors from all sectors of the foodservice industry."
"At long last a trade show where the right companies are exhibiting and the right people are attending – really great," says Patrick L Bray, MD of Regale Microwave Ovens.
The initial exhibitor list for Commercial Kitchen 2017 includes:
ACO Technologies
Adande Refrigeration
Aqua Cure
Aqua Mundus
Asian Restaurateur
Asrapport Dining Co
BBCS
Bensons Products
Bio-Circle Surface Technology
Boutique Hotelier
Brunner-Anliker AG
Calorex Heat Pumps
Care Home Professional
Carpigiani UK
Catering Equipment
Catering Insight
CED Fabrications
CEDA
China Manufacturing Solutions
Clifton Food Range
Comark Instruments
Commercial Catering Spares
Cuisinequip
A.I.S
Electrolux Professional
ETI
Extechnology
FCSI
Fermod
Fire and Ice
Foodservice Equipment Journal
Gamble Foodservice Solutions
Glen Dimplex Professional Appliances
Goodflo
Hoshizaki UK
Induced Energy
Interflow UK
ITP Promedia Publishing
Liebherr GB
Manitowoc Foodservice UK
MCS Technical Products
Multivac UK
Nayati
Nelson Catering Equipment
Oxford Hardware
Panasonic UK
Pro Auction
Purified Air
R H Hall Foodservice Solutions
Rational UK
Regale Microwave Ovens
Retigo
rexmartins
Robot-Coupe (UK)
Roller Grill UK
ScanBox
Space Group
Target Catering Equipment
Testo
TME Thermometers
True Food International
Univent Systems
Unox UK
Viessmann Refrigeration Systems
Wexiödisk AB
Commercial Kitchen attracts senior equipment buyers
In the weeks since visitor registration opened, hundreds of leading equipment buyers, specifiers, distributors, and consultants from across the foodservice and hospitality sector have signalled their intent to attend.
Among them are representatives from Nando's, EAT., Prezzo, Punch Taverns, Enterprise Inns, Greene King, Gourmet Burger Kitchen, Searcys, Marston's, Mitchells & Butlers, Morrisons, AB Hotels, Hilton, Gala Leisure, Bourne Leisure, Merlin Entertainments, Sodexo, Revolution Bars Group, Warner Leisure Hotels, Cardiff Council, Star Pubs & Bars, Sainsbury's, Debenhams, Alliance National, Brakes Catering Equipment, Bidvest Foodservice, ScoMac Catering Equipment, and Direct Kitchen Equipment, plus numerous universities, hospitals, local authorities and independent operators.
"As someone who wants the best equipment for our teams and customers, Commercial Kitchen 2016 was a good and very relevant show for me.  I look forward to attending again and watching this important event grow over the coming years," says Dirk Wissmann, senior equipment buyer at Pret A Manger.
"I really enjoyed attending Commercial Kitchen.  The equipment and size of show was relevant to our business, with some great innovative pieces of equipment on display.  It was also a great opportunity to catch up with suppliers, friends and colleagues.  I look forward to being present at the 2017 show," says Andy Gage, development chef at wagamama.
"The Commercial Kitchen show allows us to see and review up and coming innovation and market leaders in the industry.  This in turn enables us to drive our businesses forward with sustainable, ethical equipment propositions.  I'm looking forward to attending," says Stephen Childs, buying and equipment coordinator – food division at Debenhams.
"It's an amazing show and I'm sure it's going to get bigger and bigger as the years go on.  The quality of the equipment here is phenomenal," says celebrity chef and restauranteur Theo Randall.
Commercial Kitchen returns to the NEC Birmingham on 6-7 June.  Show features include a free two-day seminar programme, the Innovation Challenge Awards, and CEDA Design Gallery.
For further information, and to register to attend Commercial Kitchen, please visit www.commercialkitchenshow.co.uk and enter priority code CK10 (direct link: https://registration.n200.com/survey/3d80hw89gt3j0?actioncode=CK10).