THE BELFRY SCOOPS TOP HONOUR AT BIRMINGHAM POST BUSINESS AWARDS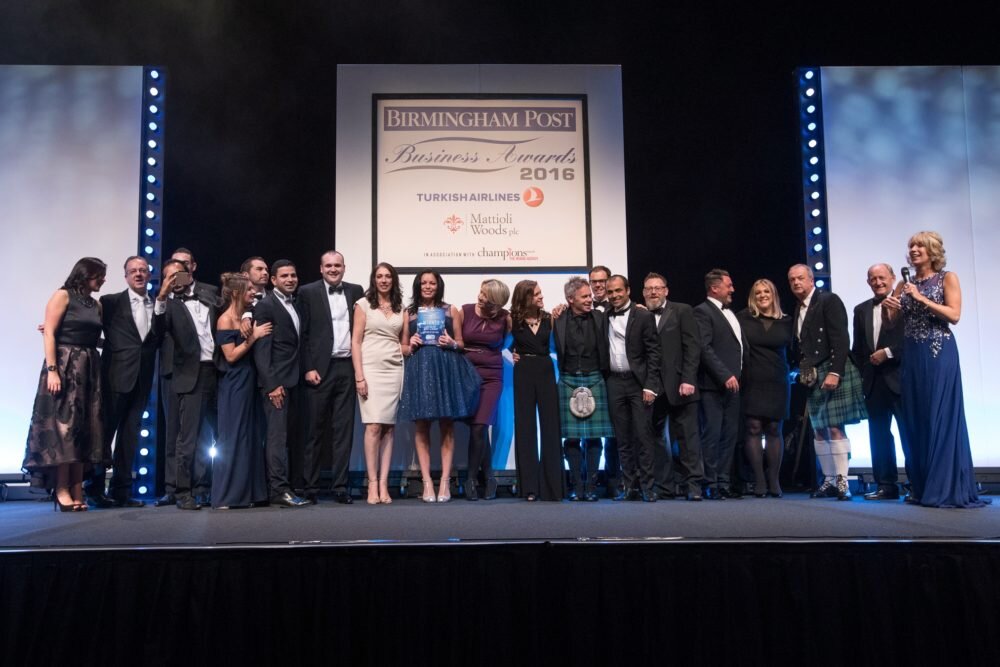 The Belfry Hotel & Resort took home the headline Company of The Year Award at last week's Birmingham Post Business Awards. The venue collected the prize in front of Birmingham's business elite at the glittering ceremony at The ICC on 26th October 2016.
The Awards celebrate success, recognise achievement and highlight the innovative companies in Birmingham, with the Company of the Year Award celebrating the overall passion, determination, energy and skill that goes into running the region's leading company.
It has been a year to remember for The Belfry, who retained their title as England's Leading Resort at this year's World Travel Awards. The venue is also in contention to retain their crowns of England's Best Golf Course and England's Best Golf Hotel announced at The World Golf Awards next month, as well as being shortlisted for Europe's Best Golf Hotel.
The resort's considerable growth has gone a long way in ensuring the Company of The Year title, with The Belfry seeing hotel occupancy grow by an impressive 27% over the past couple of years.
The Belfry is a stunning setting and the perfect destination for a luxury break, as well as a hotly sought after location for conferences, meetings and events.
The resort boasts 319 signature rooms that include 15 suites, an onsite Leisure Club and Spa, three golf courses, a selection of bars and restaurants, as well as an onsite nightclub.
Katie Niland, Sales Director commented, "It's an incredible achievement for The Belfry Hotel and Resort to be recognised as Company of the Year considering the current high quality and performance of businesses in the Midlands. The award is an acknowledgement of our investment, hospitality and financial performance and we are proud to be recognised by our peers as the leading business in the region."
Birmingham Post editor-in-chief Marc Reeves gave an insight into the reason behind The Belfry claiming the award, outlining how they have "an established record for success and a clear plan to continue to build on their achievements."
Resort Director, James Stewart also commented, "I am proud to be working alongside the best in the business. Without the passion, tenacity, drive and energy from all, The Belfry would not be achieving such recognition."
For reservations please visit www.thebelfry.com, email [email protected] or call 01675 238 600. The Belfry Hotel & Resort, Lichfield Road, Wishaw, Sutton Coldfield, West Midlands, B76 9PR.