Seven Reasons Why Every Restaurant Should Offer Free Secure Device Charging Solutions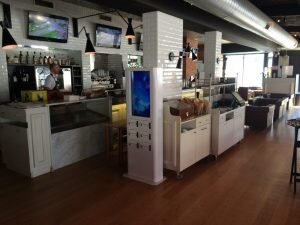 We've all been there… when you're out at a restaurant and you hear those dreaded beeps from your mobile phone indicating you had better charge up quick or else you're soon to lose touch with the outside world. Panic starts to set in. How will you organise your lift home, find out the footie scores, check in on Facebook, or WhatsApp to arrange after-dinner drinks with friends? If only there was somewhere to plug it in!
The hospitality industry is all about just that: hospitality. In order to be as hospitable as possible, an establishment might offer a number of different services for their patrons' convenience. It could be a cloakroom, a taxi booking service, or even just a selection of the daily papers. So why, in a world where mobile phone technology plays such a huge part in our lives, is something as useful as a mobile device charging station so often overlooked?
And it's not just convenient for your customers, there are a whole host of reasons why your business could benefit from one too. Read on to find out more.
Facilitate Free Publicity
Arguably the most effective form of marketing for your restaurant is word of mouth. With the age of social media, it has never been easier for people to share their wonderful experiences with their friends. Facebook check-ins, Snapchat selfies or Instagram foodie photos are all free publicity, but all require one thing: battery power! 
Build Engagement & Customer Loyalty
With the explosion of e-commerce, customers now have higher expectations from retailers and venues, meaning that 'service with a smile' is simply no longer enough. With a whopping 84% of consumers using their phone while out with friends or family, providing an amenity like a secure mobile device charging station helps you to surpass customer expectations and create loyalty.
Get Instant Tech Cred
Secure mobile device charging stations are an example of innovative, cutting-edge, interactive technology. Installing a sleek charging station into a restaurant could provide your brand with instant tech cred and automatically widen the establishment's appeal to millennials and gadget enthusiasts.
Provide security… and not just for your customers
These days, people's entire lives reside on their smartphones and, while the owner may find it difficult to entrust something so personal to a complete stranger behind a bar to charge on their behalf, what about the responsibility that rests on the staff member to ensure it is kept safe? Charging stations are made with the utmost security in mind, with the latest models requiring a fingerprint to be opened. This ensures the utmost peace of mind for your customers and protection for your staff.
Create your own USP
It could be anything from excellent customer service to playing better music, but when given the choice, 90% of patrons will select an establishment that provides a value-added service over and above its competitors. With more and more of us relying on our devices to stay in communication with the world, a secure mobile charging station could be just the USP that your business needs to stand out from the crowd.
Boost sales
An independent study by GfK demonstrated how charging kiosks increase customer dwell time by 115%. Not only that, 11% of people who walk in just to charge end up spending money, customers who charge their phones stay in a restaurant 2.27 times longer than those who don't, and there's a 54% increase in conversion for customers who charge their phones. Need we say more?
Get to know your customers
We all now live in a world of Big Data and for restaurant owners it's no different. Mobile charging stations feature an interactive screen allowing you to capture valuable data through bespoke online surveys and the acquisition of email addresses, allowing you to keep your customers informed of all the latest special events, promotions, offers, new menus and so much more.
Mobile charging stations are an ideal addition to any restaurant. Their convenience improves your patrons' experience, their cutting edge technology meets an ever-growing demand for innovation, and at the same time they offer no end of benefits to your business.
Establish a better connection with your customers today. Visit us for a chat on stand 1072 at Restaurant Tech Live, give us a call on 01923 447171, or visit our website: www.devicecharger.co.uk
by Anju Arora, Marketing Director at Device Charger.