Kata Rocks, Sets the standard for Luxurious getaways.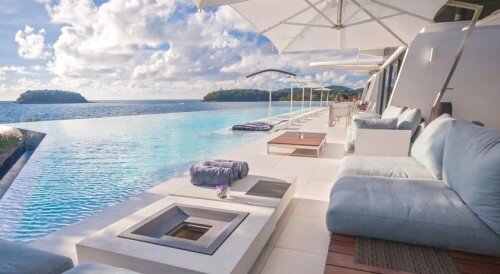 Phuket Island is the home some of the world's most beautiful beaches, Taste experiences and cultural enlightenment.
Now it hosts what can only be described as the new standard for luxurious hotel stays across the globe. Kata rocks opened its doors almost a year ago an since then has become an established get away when only luxury will do. Set in the West coast of the island near Kata beach this beautiful development is placed amongst the slopes of Kata.
On arrival you will be greeted by the ever welcoming staff and seated as you wait to get driven to your villa. As the resort is positioned to give way to stunning beach views a short buggy ride is provided to get you to your room.
You will be pleasantly surprised to find that these are not called Villas without good reason. Not only extremely spacious but also the term luxury is prominent throughout. The sky villas range from 1 to 4 bedrooms
It is difficult not to go straight to the outdoor area overlooking the amazing Kata beach and small islands in the distance. The bedroom and en suit are superbly decorated and all toiletries are available to a very high standard of quality.
The lounge area can be considered very comfortable and with a walk in kitchen this is perfect for a traditional Thai cooking class (which we will revisit later)
Moving back to the incredible view as you walk out to your private bathing / infinity pool area the seascape really is breath-taking. The scenery cannot be compared and likened to any hotel view you have seen before.
When on holiday the main objective to relax and unwind is easily achieved especially when visiting the recent award winning Luxury spa. The Infinite Luxury Spa has been awarded "Luxury Boutique Spa" by the World Luxury Spa Awards 2016. Again more than worthy of this title with many modern and Authentic Asian treatments available.
Whilst visiting this beautiful resort you will be able to visit the restaurant which is home to award winning dishes and offers both western and Asian cuisine. The head chef Leia is one of the world finest and has recently won an award for the best Gourmet burger in Phuket. Which was highly contested with many restaurants going in for the award. The Ohla burger swooped the prize and mouth-wateringly lived up to all expectations.
A succulent mix of 80% Australian beef, 20% minced pork belly, Spanish Iberico ham, French brie cheese, extra virgin olive oil, homemade barbecue mayonnaise all piled high on a fresh house-baked hamburger bun.
" The restaurant proudly serves seasonally inspired Mediterranean cuisine featuring regional gourmet twists with a Spanish accent. Only the freshest produce and finest ingredients are used to ensure an inspired gastronomical experience.
Executive Chef Laia Pons Spanish roots serve as the primary menu muse for many dishes. In Barcelona she honed her creative culinary talents at two of the city's finest restaurant, Abac (two Michelin stars) and Caelis (one Michelin star).
Her cultural background and training is also the inspiration for Phuket's best brunch, available on selected weekends depending on the season. Chef Pons uses it to showcase dishes from one of the oldest and most renowned fishing village in the Ciutat Vella district of Barcelona.
Combined with Kata Rocks' stunning oceanfront location, its legendary weekend brunch treats guests to an authentic Mediterranean feast of delicious fresh seafood and the most elegant cuisine on the island. "
To keep in touch with Thailand's exceptional cultural acclaim. A Thai cooking class is available and suggested as necessity whist on your stay. A professional cook will come to your villa and teach you all that is needed to bring a piece of Thailand home with you. Authentic cuisine will be taught with easy understanding and then the ability to master some signature dishes once you return home.
One thing that really does stand out about the Kata rocks experience is the attention to detail shown by the staff. There is a faultless service provided by them and I would suggest this is amongst the best customer care I have known. Being a crucial instrument to your overall stay this most certainly was met to the highest of standards.
Kata rocks is now an established hotel globally and has attracted not only holiday goers but also residence on a permanent basis. With the option of investment also there if you wish to purchase one of these magnificent villas.
With Phuket being ever-growing in popularity, Kata rocks is a must as part of your trip in regards to not only accommodation but also so much more.