The fun starts here!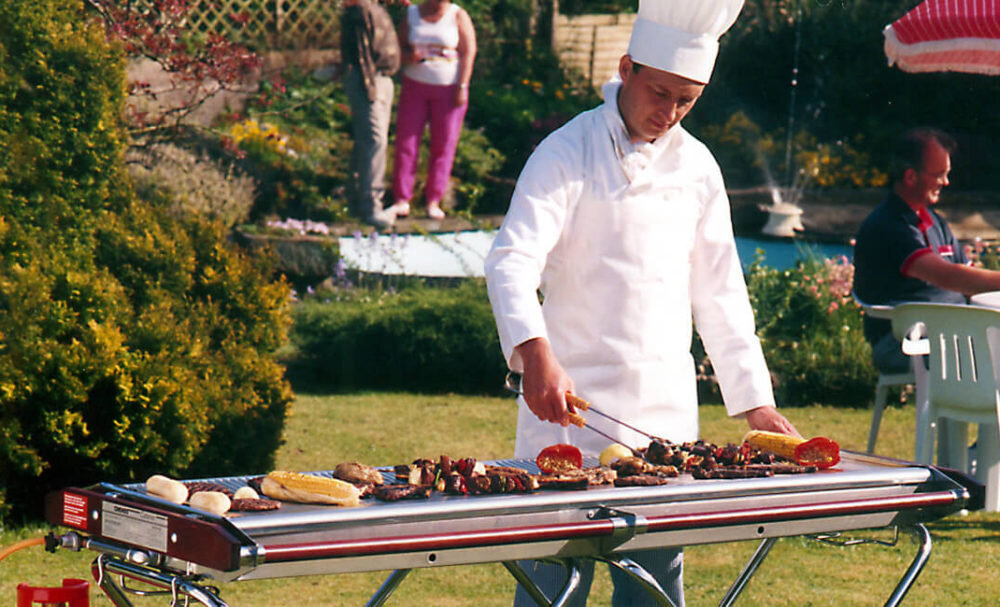 When you're ready to move the feast outdoors, do it in style with the Cinders Slimfold Gas Barbecue.
Barbecues by their very nature are fun and any informal gathering – the arrival of a wedding party the night before the big day, a retirement, birthday or engagement party during the summer months, or fundraising events of all types, will benefit from a relaxed outdoor get together.
Don't be tempted by special offers from your local superstore. You are a professional and your establishment is commercial, so the barbecue must be appropriate for use and come with a commercial warranty. Outdoor cooking has never been easier, or smarter, than with the Slimfold Barbecue from British manufacturer Cinders Barbecues. When the assignment is dining alfresco, these elegant machines provide a great presentation for any outdoor event.
Twin independent grills on The Slimfold TG160 offer one of the largest cooking areas on the market.
A one-piece design, with no extra parts to wear out or leave behind, and a quality construction gives the barbecue the enhanced durability demanded by foodservice professionals.
Folding down flat to 19 cms and weighing less than 47Kg they are easy to store and transport, a snap to set up and have a quick, no-hassle clean-up. The re-circulating heat design of the stainless steel firebox makes this barbecue unlike any you've ever used. First, the heat is kept inside the grill, cooking evenly and efficiently without throwing heat and flames back toward the chef. Another benefit is increased fuel efficiency. You'll get over twelve hours of high temperature cooking from a single 19Kg propane bottle, so you save on gas and it's kinder to the environment too!
A half-sized model, the Slimfold SG80, provides the same commercial benefits for the smaller operator. The range of custom made accessories for both barbecues will enhance your cooking operation and can also be used to turn the barbecue into a simple hot buffet station.
British manufacturer Cinders Barbecues Limited have been making quality foodservice equipment since 1984 serving professionals throughout the UK, northern Europe, USA and Canada.
For more information call: 01524 262900 & See demonstration videos at: www.cindersbarbecues.co.uk