The Lunch Price Index: How should you price your lunch menu?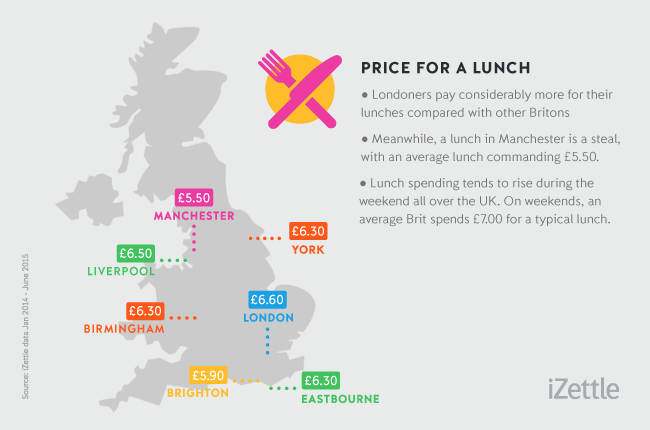 How much Britons spend on an average lunch vastly depends on where in the U.K. they find themselves, data from iZettle, the leading mobile payments company in Britain, shows.
Whilst London lunches are unsurprisingly more expensive than in the rest of the U.K., with people spending on average £6.60, Brighton residents are saving the pennies and watching the pounds look after themselves, spending on average £5.90 for lunch. Of the main UK city hubs, Manchester is the cheapest, with average lunch spending at £5.50 – 25% cheaper than in London.
Interestingly, on average Britons spend 11% extra on their lunch at the weekend.
iZettle created its Lunch Price Index to give small business owners a guide into how to price their lunches. To see a full infographic breaking down lunch prices and what customers can get for their money across the UK click here.
"Setting an appropriate price for your core product is vital but difficult. Finding the right price requires research of your competitors' prices. Our lunch price data may serve as a benchmark for small businesses on just how much to charge for a lunch depending on where your business is located," said Konstantinos Pantazis, a technical analyst at iZettle.
The lunch price data stems from thousands of cafes and restaurants across the U.K, which has been collected between January 2014 and June 2015. As part of its service to users, iZettle has started sharing insights about prices and small businesses survival tips on its new Business Hacks blog.
"One of the beautiful things about iZettle is that it allows for even the smallest business to keep close track of its sales patterns with our free sales analytics tools. This sort of immediate insight can save a lot of time for small companies, and provides them with ideas for offers based on for instance  top-selling products and average spend," said Konstantinos Pantazis.
To find out more, visit www.izettle.com or iZettle Lunch Price Index Blog Post.