Foxcroft & Ginger Launches a Winter Menu Inspired by Rising 'Craft Food' Trend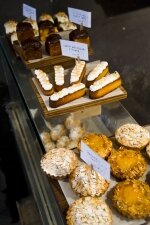 You've heard of Craft Beer and Craft cocktails, so it was only a matter of time before 'Craft Food' became a thing.
Restaurants and cafes across the UK such as Foxcroft & Ginger are beginning to shun pre-packaged, corporate-labelled foods in favour of making as many ingredients and dishes as possible from scratch.   Craft foods are typically made in small batches, with specialized, local ingredients, not to mention a lot more love and care than mass produced goods.
Based in Soho and Whitechapel, Foxcroft & Ginger pride themselves on making as much of their menu as possible in-house.  From bread and cakes to sausages, condiments, sauces, dips, pickles, and jams, the new winter menu is packed full of handmade delights.
Cafe owner Quintin Foxcroft said: "We make everything in house as this gives us more creative flexibility. Plus we know exactly what ingredients go into each product. We are specific about our quality and flavours and this is the only way we can ensure everything is of the highest standard."
Foxcroft & Ginger take their breakfasts seriously, so even the sausages are made from scratch in-house, along with the tomato sauce and sourdough bread.  Other new mouth-watering brunch dishes include: French toast with mascarpone, poached plums, honeycomb and bacon, and Ricotta gnocchi with tomato fondue, kale, broccoli, and poached egg on sourdough toast.
Hearty and wholesome lunch dishes on the new menu include: Sticky duck burger with homemade chutney & chilli; Braised ox cheeks with fragrant couscous and homemade carrot jam; Grilled artichoke salad with marinated mozzarella, Bocconchini, curried croutons, chilli, green beans, roasted salted lime and soft herbs; and Golden fried polenta chips with homemade aubergine Kasundi, sour cream and herb salt.
From 4.30pm daily, a range of handmade sourdough pizzas is on offer, with inventive new toppings such as: Goats cheese with fig, homemade Kale pesto, marinated beetroot and mascarpone; or Garlic and fennel sausage with red pepper, ricotta, burnt onion and béchamel sauce.
Foxcroft & Ginger is the lovechild of dynamic husband and wife duo, Quintin and Georgina, who spent over ten years launching successful restaurants before taking the plunge with their own creation.  Born from a desire to find a place where you can relax with good food and not feel pressured to pay up and move on, F&G is the place they dreamed of for years.  It takes its name from Quintin's family name, 'Foxcroft', and Georgina's redhead pride!  The original Berwick Street site has already developed a cult following, including the likes of Lily Cole, Anne Hathaway and Bill Nighy, thanks to its lovingly made, delicious offerings.
Foxcroft & Ginger, 69-89 Mile End Road, E1 4TT