The London Marriott Hotel Park Lane Sets a New Standard for Service and Style in Mayfair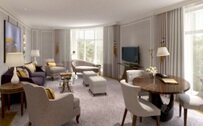 Travelers have many reasons to appreciate the London Marriott Hotel Park Lane. From its enviable location among hotels near London's Hyde Park, to its Francis Thomas Verity-designed architecture, the property has long embodied the essence of luxury British hospitality. But as the hotel prepares to complete an extensive renovation in June 2015, it is positioning itself as the destination of choice among Mayfair hotels — and giving visitors even more features to love along the way.
Helmed by RPW Design, a leading hospitality interior-design firm, the renovation includes a transformation of the property's 152 guest rooms, the addition of five new suites and a redesign of the lobby, Executive Lounge and meeting rooms. Upon its completion, it will represent the best of Marriott in London.
The upcoming changes promise to impart an understated opulence to the property, allowing it to take its place at the forefront of London's top luxury hotels. But even more important is its expert fusion of modernity with historic authenticity, a design element that befits the building's status as a Grade II listed property. The color palette of whites, dove grey and lavender, for example, will create an ambience that is both soothing and sophisticated. Guest rooms will feature entrance lobbies for a sense of arrival that feels as appropriate today as it might have a hundred years ago. And the timeless selection of materials throughout the hotel will include leather, silk, solid wood and bookmatched marble.
Quintessentially British touches will further distinguish the property among 5-star hotels on London's Park Lane. Guests will find themselves immersed in thoughtful details like the collection of British artworks on display. And the presence of Royal Warrant Holders like Floris bathroom amenities will add another layer of contextual authenticity.
While the design and amenities honour the building's legacy, its technology represents the best of tomorrow. Apple products throughout the hotel, Bluetooth LCD-screen televisions and mobile check-in will all be on offer. And service, that singular hospitality element that never goes out of style, will be enhanced with a new signature arrival experience and bespoke personal service.
Although the renovation is extensive, it is only one component of the property's most recent evolution. The hotel opened its Lanes of London restaurant to widespread acclaim in January 2014, and plans to renovate its Club — which features a steam room, state-of-the-art fitness equipment and the only pool on Park Lane — will soon be announced.
About the London Marriott Hotel Park Lane
Located within a late-Edwardian apartment building on London's upscale Park Lane, the London Marriott Hotel Park Lane embodies the best of location, service and style. Travellers enjoy recently redesigned guest rooms outfitted with luxury bedding, soundproof windows and views of Hyde Park and Oxford Street. The hotel's Lanes of London has quickly earned a place among Mayfair's best restaurants, thanks to its exciting mix of traditional and internationally-inspired dishes. And three meeting rooms afford nearly 1,300 square feet of elegant conference space. Just beyond the hotel's doors, visitors find themselves only steps away from the capital's top attractions, including Oxford Street, Bond Street shopping, galleries and museums.