Solid Oak Hardwood Furniture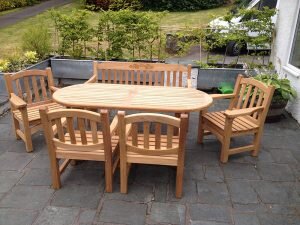 Here at Solid Oak Hardwood Furniture creating stunning Tables, Chairs and Benches is not a job, it's a passion.
Everything we do is made in our factory by time served craftsmen. Finest quality is guaranteed.
If you need patio sets,  pub garden tables,  massive heavy picnic tables, street tables,  heavy or lightweight chairs or poolside loungers!
All you have to do is ask.   Call us on 01429 890808 or email [email protected]
Pictured above are, a solid teak Hartlepool table, Lion armchairs and a 1500 special Rose bench.  You can mix and match, tables with benches and or chairs, wheelchair accessible tables, children's picnic tables and on top of all this we also offer a full BESPOKE service enabling you to create whatever effect you need.
Remember all our furniture is:- Built for comfort – Built for beauty – Built to last