TAILS COCKTAILS ANNOUNCES BRAND RELAUNCH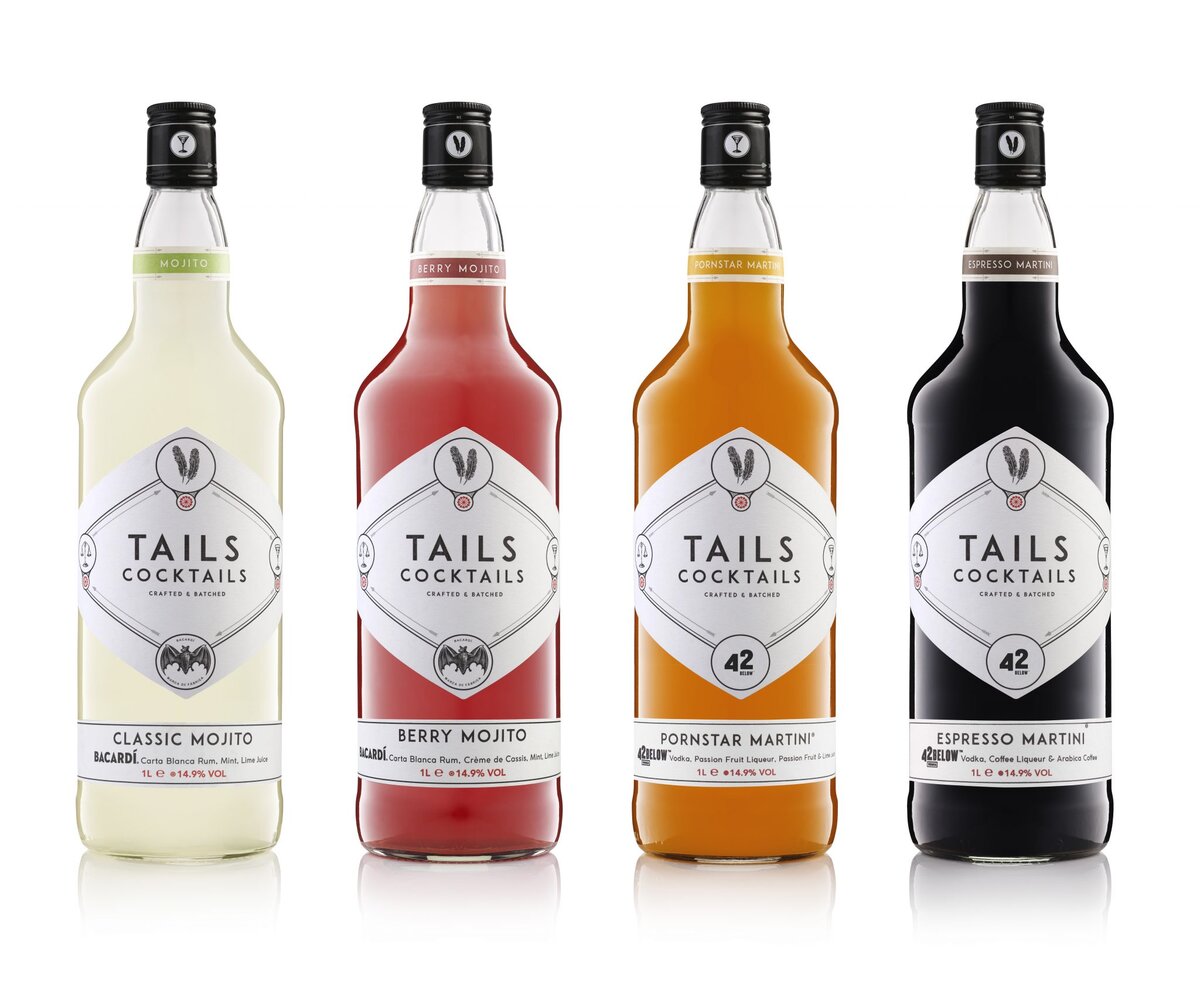 Batched cocktail company unveils packaging update to be launched at London Cocktail Week
Established in London in 2010, Tails Cocktails has dedicated years to experimenting, innovating and balancing recipes to create the ultimate batched cocktails. The brand revolutionises the consumer cocktail experience by making perfectly balanced cocktails more accessible, faster and more consistent.
Now, Tails Cocktails has announced a brand-wide packaging update celebrating the mysterious origin of cocktails, just in time for London Cocktail Week.
THE TAILS COCKTAILS EVOLUTION
The origin of cocktails is something that remains hotly debated within the industry. Many believe the inspiration came as early as 1779, in a tavern where they used rooster feathers to stir alcoholic mixed drinks, providing colourful, unique garnishes. These drinks became known as cock-tails.
Celebrating the rooster's flamboyant feathers, the brand has re-launched with a new logo, bringing together key elements of both the brand's ethos and history of cocktails.

Key logo elements:
The balance scales represent the precision and science behind batching cocktail recipes
The feather is the iconic symbol for Tails, referencing the inspirational origins of cocktails
The classic martini cocktail glass symbolises the quality and high-standards Tails delivers
The arrows illustrate the flow of cocktail making
The red cogs represent the mixing tools used when batching Tails recipes
TAILS COCKTAILS AT LONDON COCKTAIL WEEK
To celebrate the brand re-launch and to kick-start the Tails Revolution, Tails Cocktails will be bringing its range of premium, batched cocktails to the London Cocktail Week Village from Wednesday 3 – Sunday 7 October.
Tails has built a bespoke two-story container to showcase its striking new feather design and range of batched cocktails in bottle and on draught, including Classic Mojitos and Espresso Martinis on tap.
The only stand in the village to boast a roof terrace, guests that know the secret password will be able to ascend the hidden staircase for a bird's-eye view as they enjoy the quality of Tails' batched solutions.
Nick Wall, Founder of Tails Cocktails, says: "The UK's cocktail culture is booming and, as a result, batched cocktails have been growing in popularity in leading bars as a way of providing great-tasting, consistent cocktails without making the customer wait. Tails Cocktails offers bars, restaurants and many other venues and occasions the opportunity to capitalise on this trend, without having to invest hours into preparation and training.
 Our brand re-launch focuses on our core values of quality and authenticity, and I feel that the refreshed packaging really tells our story. I'm excited to see how it will be received in the trade."