New Year New Hospitality Jobs For City's Unemployed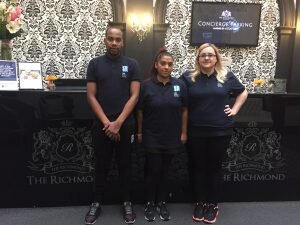 Academy turns around the lives of a group of unemployed people in Liverpool and results in three jobs at Know Collection
A free month-long training school has draw to a close but resulted in bright prospects for all participants – including three permanent roles.
Know Hospitality Academy has completed its first course as part of its brand-new curriculum, designed by the Know Hospitality team.
After four weeks of on-the job training and tutoring at The Richmond Hotel, Hatton Garden, Yolanda Cabellero and Siyehena Begum have been successful in securing jobs in house keeping
meanwhile Annuar Ameir will now form part of the helpful porter team, in front of house.
Know Hospitality Academy founder Steven Hesketh, who is CEO of parent company Know Collection, said: "If our first cohort is anything to go by then I'm very excited for the future of the Academy – they were outstanding. From start to finish all seven trainees got stuck in and had a thirst to learn and that's exactly what we hoped for. I'm thrilled to have Yolanda, Annuar and Si as part of our growing team here at The Richmond and look forward to seeing them grow and develop within the business."
Other trainees have gone on to secure further interviews with large national hotel chains and hotels within the city.
Andi MacGregor, Director of Know Hospitality Academy, is responsible for recruitment for the free courses, which will now be rolled out throughout 2018. Alongside partners within the city such as the JobCentre, Andi has now released January 22nd as the next start date for the second cohort.
She added: "Whether you've been unemployed for a long time, recently made redundant or just wanting to get back into the world of work, we are open to anyone over the age of 16 who has a willingness to learn.
"Jobs in the hospitality sector are so varied – not everyone has to be a waitress or a receptionist – we're looking for aspiring accountants, housekeepers and barista's too. The greatest thing about this Academy is that it is in Liverpool and we have great connections too – we'll get you work ready for any hotel in the city by just completing the course."
To enter, candidates must be unemployed and be over the age of 16. You can go to http://knowcollection.co.uk/know-hospitality-academy/ to sign up or email [email protected] call 0151 305 2450 or visit the Know Hospitality Academy Facebook, LinkedIN and Twitter to find out more.