Brand New Treatments Launch at The Club Hotel & Spa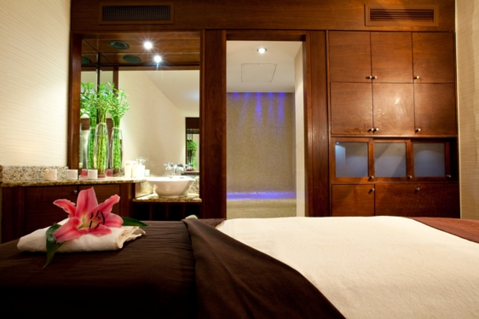 The Club Hotel & Spa, Jersey's premium wellness destination, has launched a brand new range of innovative spa treatments for the New Year. Hotel guests, daytime visitors and locals alike will be able to relax, rejuvenate and revitalise whilst enjoying the latest therapies and massages launched just in time for the winter season.
After a day of exploring Jersey's stunning landscape, spa visitors will be invited to slide on their slippers and browse the long list of relaxing remedies. Below is a list of the brand new treatments now available at The Club Hotel & Spa.
Discover CineticTM Lift Expert
The perfect alternative to cosmetic surgery and the world's first ever combination of Micro-currents, Ultrasound and LED futuristic technologies, this treatment provides dramatic, visible results after just one treatment. The Club Hotel & Spa team recommend CARITA treatments to be taken as a course of three or five sessions to achieve maximum firming and lifting results. Thereafter, monthly appointments are recommended.
Cinetic Skin Specific Facial
This brand new facial is perfect for winter time and is recommended for sensitive, dehydrated or oily skin types. The treatment starts with a deep cleanse and CARITA signature 'La Renovateur' detoxifying massage, followed by a sculpting massage and soothing skin mask to illuminate the skin. Luminotherapy will then be used to soften, sooth, purify and deeply hydrate the skin.
Allow 90 mins, priced at £117
Advanced Firming and Restorative Peel
Recommended for mature skins with deep lines and a loss of skin tone, this clever treatment instantly restores and renews all skin types. Beginning with a detoxing facial massage, the spa's expert therapists will then perform an extensive lifting treatment with state-of-the-art technology. Following this, a delicate mask will be created and applied for optimum rejuvenation.
Allow 60 mins, priced at £89
Luxury Firming and Restorative Peel
Similar to the above Advanced Firming and Restorative Peel, this deluxe treatment also includes a hands-on lifting massage to sculpt, contour and relax muscles. Guests can then choose from a warm oil scalp massage or heavenly hand massage.
Allow 75 mins £95
Radiance Peel & Reveal
Suitable for all skin types, this high-performance luminosity peel incorporates CARITAS signature exfoliator le renovateur and LED light therapy to purify, deeply hydrate and stimulate cell regeneration. The treatment boosts collagen and elastin production with the help of an enveloping mask that affects the deepest layers of the skin.  A relaxing warm oil scalp or hand massage is then performed. Skin will be left feeling renewed, revitalised with a smooth and refined flawless finish.
Allow 60 mins, priced at £79
Allow 30 mins (booster), priced at £49
The Club Hotel & Spa, Green Street, St. Helier, Jersey JE2 4UH, Channel Islands
For reservations please call: 01534 876 500 or visit www.theclubjersey.com