Be Ski-Ready This Season with a Pre-Hab Ski Session at Rudding Park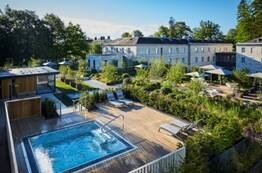 Last season it was all about rehab but this ski season it is all about the 'Pre-Hab', the term given to exercises undertaken to prevent injury occurring. Rudding Park Spa has introduced a Pre-Hab with Re-Hab Ski package available from January through to March 2018.
Injuries commonly associated with skiing include knee ligament damage; regularly caused by lots of rotational and torsional load placed on the knees during carving and downhill skiing, as well as potential falls. Women are two to eight times more likely to rupture knee ligaments than men due to female biomechanics.  
Matthew Birch, Sports Rehabilitation Specialist at Rudding Park Spa comments: "Don't just think about rehabilitation once you've incurred a sports injury – when it comes to skiing you need to be planning ahead to prevent an injury occurring."
The five-hour Pre-Hab with Re-Hab Ski package is split into two sessions. Firstly, the pre-hab begins with a biomechanical assessment looking at postural alignment and the biomechanics of movement to determine the most likely injuries that the individual could suffer.
This is followed by a gym session with pre-hab exercises, tailoring each exercise to prevent injuries based on the individual's biomechanical assessment results. A variety of equipment in the gym including a Bosu ball can be used for overall balance and stability, this is key when preparing for a ski holiday. You can then have one hour in the members' gym to continue practising the exercises and relax in the steam room.
Once back from their week on the slopes, guests can return to Rudding Park for the follow-up Re-Hab session which includes an assessment and exercises, followed by two-hour access to the Roof Top Spa. Here guests can use the extensive hydrotherapy and thermotherapy experiences to support their personalised rehabilitation programme.
Pre-Hab with Re-Hab Package (5 Hours) £200pp
Re-Hab Package (3 hours) £115pp
Subject to availability and pre-booking is essential.
For further information, please visit www.ruddingpark.co.uk, call 01423 871350 and follow the developments on Twitter @RuddingPark @RuddingParkSpa, Instagram @RuddingParkHotel and Facebook (Rudding Park Hotel).