JACK DANIEL'S LAUNCHES INAUGURAL JACK FRIDAY CAMPAIGN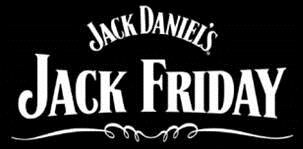 Jack Daniel's, the world's no.1 American whiskey, is linking up with on trade partners across the UK from this August bank holiday weekend and throughout September to encourage consumers to make every Friday a 'Jack Friday', with a host of drink and food led promotions and experiential activities on offer. The campaign will incorporate the extended Jack Daniel's range as the brand aims to demonstrate its versatility and its appeal to the millennial audience's tastes in new and different occasions.
Entitled 'Jack Friday', the campaign aims to help participating outlets drive footfall and sales during busy weekend periods. The promotion name pays homage to the longstanding tradition at the Jack Daniel's distillery where workers are given a bottle of Jack Daniel's Old No. 7 on the first Friday of every month as a thank you for their continued hard work.
Get involved
Over 9,000 independent and managed operators around the UK are linking up with Jack Daniel's to promote Jack Friday from the August bank holiday weekend. Managed retail groups taking part include Stonegate, iNTERTAIN, Deltic, [email protected] and Glendola, with participating outlets receiving a range of Jack Friday branded materials including glassware, bar rails, posters and t-shirts.
50 Stonegate pubs will be hosting live music events and the remaining outlets within the group will be activating the promotion through branded materials such as POS kits and extra glassware. iNTERTAIN will be hosting Jack Friday sponsored barbecues as well as drink and meal deal offers. Other partnerships include Deltic Group, who will be hosting Jack Friday parties, and [email protected], who will include drinks promotions on their app. Glendola Leisure will be hosting a Jack Friday party at The World's End in Camden.
Leading category growth
Crispin Stephens, Head of Commercial Planning and Activation at Bacardi Brown-Forman Brands comments: "The opportunity for American whiskeys in the UK has never been stronger and as the category leader, Jack Daniel's needs to lead by example through innovative and engaging marketing to drive this growth. The Jack Daniel's range of premium Tennessee Whiskeys and flavours offers target consumers a range of ways to enjoy the smooth Jack flavour, catering to all occasions from casual dining to high energy moments; with Jack Friday, we're aiming to really highlight the brands versatility.
Jack Friday is going to be a great showcase for the brand and we're delighted so many of our on trade customers are getting involved. With the current Americana trend continuing in the UK's food and drink scene, we're confident that Jack Friday will be a great success for all involved."
The American whiskey category is currently worth over £613m in the UK and growing by +6.6%. Jack Daniel's is leading the way with Old No.7 worth over £421m (+2.5%) and Jack Daniel's Tennessee Honey remaining a driving force for growth currently worth over £57m and growing at 18.3%[1].
National Burger Day
Jack Daniel's is also highlighting its BBQ food-matching capabilities by participating in this month's National Burger Day on 27th August with Jack Daniel's Old No.7 cocktails featuring at both M Restaurants and M.A.S.H. The brand and it's on trade partners will be amplifying the promotion to consumers through social media activity on its Facebook, Twitter and Instagram channels.
For further information about getting involved in Jack Friday, please contact the sales team at Bacardi Brown-Forman Brands on 01254277865 or email: [email protected]
[1] Nielsen Off Trade to 18.07.15 and CGA On Trade to 16.05.15