Oktoberfest German Beer Festival Comes To London for First Time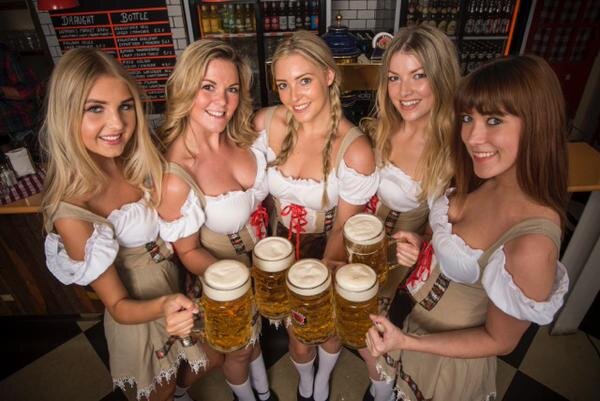 The world-famous German beer festival Oktoberfest is launching in London for the first time this year.
The Bavarian festival which has been held in Munich since 1810 is going to be held at the Tobacco Docks in Wapping, east London from Thursday 8th October to Sunday 11th October. Over 100,000 pints of lager, in traditional German one litre Stein glasses, are expected to be drunk and over 50,000 traditional sausages eaten during the four day festival.
A traditional German beer hall will be created with rows of seated on long tables with benches and over 24,000 people are expected to attend. There will be a Bavarian Oompah band playing on the main stage at the event but unlike the Munich based event, songs performed will be classic British pop and rock songs from bands like Queen and Oasis. Waitresses serving the beers will all be decked out in traditional Drindl dresses, with a laced up bodices, white blouses, with full skirts and aprons. The men's outfits will include genuine lederhosen breeches, alpine hats and socks up to the knee.
Event organiser Joe Ryan said: "I've always thought that London would be amazing place to put on the Oktoberfest, and Tobacco dock is the perfect location for this event. The wooden beams and the high ceilings give an authentic feels to this satellite of the world famous Bavarian beer festival."
And he added: "It's going to be amazing fun and we are already struggling to keep up with demand for tickets and may look to add another date in future. We would love to make this an annual event in London and because the German event has been put forward to September nowadays due to the inclement weather this will now the one genuine Oktoberfest in Europe."
There will be a selection of side-stalls, a Bavarian garden and games will be available including lessons from German professional footballers on taking penalties, and a special Beach Towel Toss game, where you have to throw a German flag beachtowel over 50ft and stake your claim to a sun-lounger by the pool.
Food will be laid on from German restaurant chain Hermann Ze German who will offer Wurstl (sausages) with Sauerkruat (pickled cabbage), Shnitzel and Germany's favourite potato salad. The event was first held in 1810 to celebrate the wedding of Crown Prince Ludwig of Bavaria to Princess Therese of Saxe-Hildburghausen, who was related to the great-great-great-great grandmother of the Queen.
The event is sponsored by German beer company Paulaner which is one of the original founders of the Oktoberfest event and based in Munich. They will be specially shipping over 600 beer barrels of traditional beer which is a particularly light lager with the recognisable frothy white head. As the event is held directly after the Oktoberfest in Munich, Paulaner will also send all of their tent decorations over to London.
Tickets are £10 for general admission to the event including the Paulaner Beer Tent, the Bavarian Garden, the Paulaner Beer Tap Pub and the Munich Market. Seating is on a first come first served basis as long as there is capacity.  A £60 Paulaner Pass includes unlimited steins of Paulaner beer and a meal of your choice from Herman Ze German. A Paulaner Table for 10 at £600 includes 10 Paulaner passes and VIP tables for £1,000 are located adjacent to the the Ooompah band stage.
For bookings go to www.oktoberfest.london